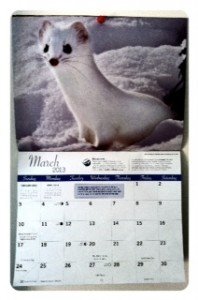 What calendar do you have hanging on your wall?  If you are like me it is probably a church calendar of some sort.  Recently, however, I happened to come across a calendar put out by the Canadian Wildlife Federation.  The interesting thing about this calendar was that it made the effort to mention the religious holidays for varying faiths.  For example, March 10th is Maha Shivarati.  I had never heard of this day before, but the calendar indicated that it is a holy day in the Hindu faith.  It does this by placing the word 'Hindu' in brackets beside the name of the celebration.   This occurs in many places.  April 14th for example reads "Vaisakhi (Sikh)", and May 25th shows 'Wesak (Buddhist).  Even the 25th of March contained the words "Passover Begins (Jewish)."
This is the first calendar that I have ever seen of its kind. Obviously not every religious holiday could be observed, but it was clear that this calendar was making an effort to recognize some of the main Holy Days for the most prominent faiths in Canada.  Because of this, I was all the more shocked and saddened to see what was written for March 31st.  As this day is the celebration of Easter, one would think that the calendar would list this day like all the others.   I was assuming I would find "Easter Sunday (Christian)" written on that day.  I was wrong.   March 31st simply read "Easter Sunday."
Apparently, in the eyes of the calendar, Easter is not a holy day but one along the same lines as "The International Day for the Preservation of the Ozone Layer" (September 16th).  No faith required.
This absence of Christian faith in this calendar wasn't limited to Easter.  It was the same for Ash Wednesday, Good Friday, a non-existent Pentecost, and even Christmas.   Each of these days, of utmost importance to Christian faith, occurs without religious descriptor.  The calendar, interestingly enough, gives testimony that January 24th is "Prophet's Birthday (Islam), but mentioning that Christmas is the Christian Celebration of the birth of our Saviour is apparently too much.
Don't get me wrong, I am all for an inter-religious or multi-faith calendar. In fact, it was quite fun researching the different celebrations.  I spent quite some time on Google learning about these different Holy Days.  The existence of other faith traditions on the calendar is not what is upsetting here. What is upsetting is the almost intentional manner in which Christian faith and identity is blatantly ignored.  The Christian story associated with these days were  completely separated from the day's celebration.  The holy days of our faith are advertised as nothing more than civic celebrations.
I was all ready to write a post whereby I ranted upon this cultures rejection of Christianity.  I was going to raise my ire in righteous indignation over the blatant hostility that this calendar takes to the holy days of Christian faith.  Surely this calendar highlights this cultures subtle yet purposeful ebbing of Christian identity and story.  I was ready.  The computer was on and my hands were on the keys.
Yet then I asked myself, to what end would this serve?
It occurs to me that the challenge here is not to take on the calendar, but to live the Christian story myself. Easter is a holy day, not because we have so labeled it on a calendar, but because it is day in which we are reminded to set ourselves apart for Christ and his work in this world.   The celebration of Easter shouldn't simply be about a word on a calendar. It should be about expressing the resurrection of Jesus in our life and witness.  It should be about testifying to the fact that Christ's gifts of love, grace, forgiveness and salvation are available to each and every one of us.  We are reminded of the salvation gifted to us through the cross, not as a moment of past nostalgia, but of a present reality which defines us and forms us as the people of God.  The holiness of this day is not a special holiness, for the holiness of Easter is connected to the holiness with which we approach the rest of our lives.
So, who cares how a random calendar labels Easter, or any other holy day for that matter.  In the end, our faith isn't about watching the calendar.  Nor is it about acknowledging holiness on our calendars but not in our lives.   Our faith is to be held, and lived out, in a much deeper manner.
How does the holiness of this day influence the holiness of our entire life?   How will we express the holiness of Easter through our life and actions this year?
May the joy of the resurrection be with you all.