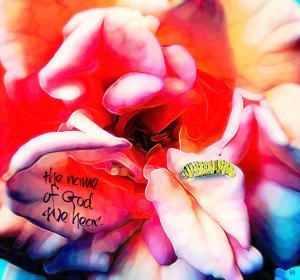 Open up the back door you will see,
Below the window to the sacristy,
A birdbath there beside the garden wall,
A rosebush that keeps blooming in the fall.
The air there in the evening, truly sweet.
Not much to hear now but the sparrow's feet
As she alights a branch, and starts a tune
"Let's Gather Now Beneath the Coming Moon."
And while the moon hangs ghostlike in the sky,
Collectively the garden breathes a sigh.
Shy butterfly, the Dear Mouse and the Worms,
And a garter snake named Albert gladly squirm
Along with the sparrows and Mac the spider
Who sees Ladybug sailing on a thistledown rider.
The Garden Gang is gathering in the shade
Upon the mossy stones, that modest jade
Beneath the branches of the apple tree
Amid the violet's scent, its petals three
All hidden in the dim that cloaks advances
Of their smallness to the statue of St. Francis.
For in the tree, Dragonfly found a note
It was something that the Sunday school kids wrote.
Some question or another about God
That's rendered all those humans over-awed.
(To become over-awed is to be speechless,
You have nothing to say your thoughts are reachless.)
And so the Garden Gang must have a chat
And write a brave reply before the cat
Comes skulking through the irises to see
The revelation of their family.
For many thoughts of God are rather tough
And humans are known to do lots of stuff
That makes God seem as if God were a brute
Who laughs while He tramples you with his boot.
Does God love you? You wonder in the night.
And you start thinking at the speed of light.
That is where the Garden Gang comes in.
For thoughts to make a start, they must begin.
Here beneath the birdbath we'll be fine.
They'll answer your questions of the Divine.
The Garden Gang they are, they are that they are.
And if you like what you have read so far
Write them, little dear one, they will tell
All they know between hello and farewell.
Okay my mortal friend? Do not despair
Just take a deep breath of the garden air
And know that all of this one day will go
Along with all the things you seem to know.
So don't forget to write, we'll write back soon.
Under the sun reflecting on the moon.