Children's Ministry
How can we shape learning experiences that will empower our children to explore the Christian Faith and make it their own? How can we show them that they are valued members of the church today? This forum will be a place for us to share the joys and challenges of Christian Education. Come and join us as we share ideas and resources, ask questions, and encourage each other in this vital ministry.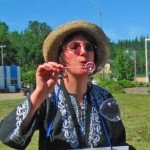 Topic Guide:
Sharon Harding
I was born in England and immigrated to Canada almost 30 years ago. A graduate of Gloucestershire University (B.Ed.), I have been involved in children's ministry since I was 16. Over the past 12 years I have written for a variety of Christian Education curriculum resources. I also write a
blog
encouraging parents to build strong connections with their children. When I am not working I enjoy painting, reading, and pottering around the Internet.