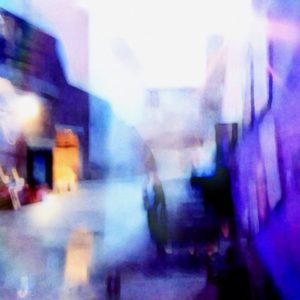 After tucking the little one in, kissing his soft cheek before bed, and leaving his room, I catch a glance of his summer hat hanging on the edge of his bookshelf. It is covered with reminders from our old life; 1-inch pins; the big red W in the sky from the eastside neighbourhood where we lived, played, and ran on the concrete. There is a dancing milkshake from our old diner on Hastings Street—Save on Meats—with the big neon pig above the doorway and the jukebox. How many rainy Thursdays did we sit in that booth under the painting of the mother and her child?
That life is over now. Now we are surrounded by the trees, just as we prayed to be. The trees did an excellent job of welcoming us into the new city, with their calm with their gentle green. We have listened to their leaves rustle over a whole two months of summer, now we watch as they shift into redness and pass.
September is a month of change for people too. Families bring their children back to school or to that first kindergarten sojourn which simultaneously scares a parent and—quick, don't admit it—breaks their heart. The first day of school: when you watch your little one become a bigger one, and face the world with all the strength that you have loved into them. Because perhaps—and it is okay to admit this—you did do an excellent job. How do you know that you did an excellent job? Well, they are slowly moving away from you, aren't they? That is something.
It is something to be able to witness change. There are moments in our lives, like the first day of school, when change is palpable. Change comes like the smell of cold in the fall air, the rain that stops just before you and your little one open the front door to go.
Children who take part in the Eucharist have a context in which to place all this change.
But Jesus has ascended into heaven and I cannot see him… he comes to the altar in another form. –St. Augustine's Prayer Book
We practice transformation every Sunday when we receive the body and blood of Christ; He transformed his death into life, He changed His brokenness into life giving energy that we share. So, we are acquainted with revolution. When we receive at the altar, conversion becomes commonplace in our lives. We remember, as adults, what children live on the first day of school— that change is real, critical, and the only way to grow.