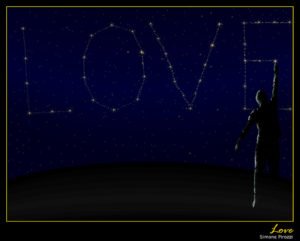 A while ago, I had a bad week. One of those weeks where it seemed that every phone call was more bad news, like every visitor was coming to complain, like every email was another emotional hit.
One of THOSE weeks.
And then, as I sat at my desk pulling myself together, I heard it.
A voice, from the doorway, said "You are loved."
That was it—three simple words, from a friend who didn't know why I was hurting so deeply. But it didn't matter—I was hurting—and she could offer the basic reality of my situation.
It didn't fix everything, it didn't stop the complaints or burdens or sadness—but it put it back into perspective for me.
I am loved. I'm loved by my friends, I'm loved by my God. Not a fleeting, casual affection; the deep, unstopping and unstoppable love of being a child of God. It's not something I can take lightly, or reject, or disbelieve. I am loved.
As we all are.
We are loved. No matter what life throws at us, we are loved. In the good days, we are loved; in the bad days, we are loved.
What a gift.
And what an opportunity for us then to share that love, with those around us who are hurting. Not restricting love to when we feel like it, with the folks we choose, but sharing with everyone, every time. Reminding ourselves, and the world, that love drives out fear and sorrow and all that would keep us burdened and downtrodden.
So let us love. Let us live knowing that love is not some abstract concept, but a reality that is offered to us, and then through us. Let us love because God first loved us.
Let us hear in our hearts, and share with the hearts we encounter, the truth for us all:
You are loved.