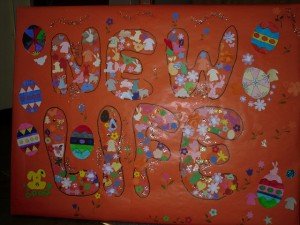 Easter is one of my favorite seasons. I love hearing the resurrection stories and watching as the disciples slowly recognize what has happened. It is definitely time to celebrate. As we know Easter is one of the most important feasts of the Christian year. It is so important that the church sets aside a whole season to celebrate and rejoice. The Great 50 Days of Easter are a wonderful opportunity to explore and celebrate Easter in all its fullness. We couldn't possibly squeeze all that rejoicing into a single day! But can we really sustain a sense of celebration for seven whole weeks? How can we keep rejoicing when all the jellybeans are gone?
Most children are really good at celebrating. They embrace joy fully and are always up for a good party. Tap into their natural enthusiasm and find ways to keep the party going. Remind the children that each Sunday in this season is an opportunity to celebrate anew the good news of Easter. Here are a few ideas to keep your Easter celebrations going all the way to Pentecost
Use the traditional Easter greeting and response throughout the season: "Christ is risen! – He is risen indeed!" Shout it out each week!
Cut out a large cross from Bristol board. Invite the children to add paper/silk flowers to it throughout Easter.
Create a new life banner, like the one shown above, to decorate your learning area. Use traditional symbols of Easter and talk about their meanings.
Ask volunteers to make cookies in the shapes of Easter symbols. Freeze some to serve throughout the season.
Learn how other cultures celebrate Easter. Try out some of their customs and foods. Here are two examples
In Germany Easter Trees are created from branches cut from pussy willows or other flowering bushes. These are brought in the house and put in a vase to be decorated with hand painted wooden eggs, hollowed out real eggs and little garlands.
People living in Bermuda celebrate Good Friday by flying home-made kites, eating codfish cakes, and eating hot cross buns. The tradition is said to have begun when a teacher from the British Army had difficulty explaining Christ's ascension to Heaven to his Sunday school class. He made a kite, traditionally shaped like a cross, to illustrate the Ascension. The traditional Bermuda kites are made with colorful tissue paper, long tails, wood, metal, and string. Doesn't that sound like fun?
Decorate your learning area with white and gold. They are the season's special colors.
Plant some seeds and watch as new life slowly appears and  grows throughout the season.
To help younger children keep track of the 50 days you can download a free printable Easter calendar here 
Make a resurrection set for the children to play with. This is like Nativity set, but has figures and scenery from the Easter story. You can find printable one here
What ideas do you have? How do you help the children maintain a sense of celebration throughout the 50 great days of Easter?