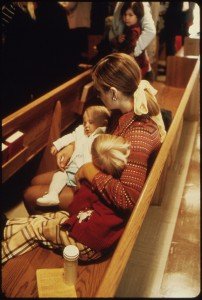 Dear brothers and sisters in Christ,
Last week we posted a compassionate letter addressed to parents who bring their young children to church. The overwhelming response to the author's heartfelt words made it clear that this letter had highlighted something of great importance, not only to Anglicans, but to followers of Jesus around the world
Many, many parents responded with words of gratitude. It became obvious that they really needed to hear the words of affirmation and appreciation. We were reminded that parenting is really hard at times and parents need to be told they are doing a good job; that bringing their children to church is important; that it is worth the struggle; that WE WANT THEM TO BE THERE.
We heard many stories about wonderful congregations who do a fantastic job of welcoming young children and their families into their midst. Congregations who make a point of encouraging and affirming parents, who value the contribution that children make to their worship. It was wonderful! We also heard stories about people in congregations who were not so welcoming. This message was communicated in a variety of ways and included hurtful comments, eye rolling, sighs of impatience and a general attitude of impatience and annoyance directed towards the lively chatter of young children. The stories broke my heart.
As congregations we need to be talking about how we welcome and treat young families. I believe the conversation needs to start with you. As you do this you may need to wrestle with some difficult questions. Perhaps you are being called to repent and change your ways. I would implore you not to ignore this opportunity. Start the conversation today, take the time to prayerfully reflect on the questions, and wrestle with the implications of your answers.
How often do you, as leaders, express your appreciation to parents who struggle to church with their young children?
Have you educated the members of your congregation about the need for this kind of affirmation?
Are there people in your congregation who could be encouraged to make a point of offering words of affirmation and encouragement to parents?
"When you are here, the church is filled with a joyful noise. When you are here, the Body of Christ is more fully present. When you are here, we are reminded that this worship thing we do isn't about Bible Study or personal, quiet contemplation but coming together to worship as a community where all are welcome, where we share in the Word and Sacrament together."
As a congregation have you grappled with the understanding that worship isn't about Bible study or quiet contemplation?
How is that understanding reflected in your attitude and response to the lively noise and chatter of young children?
Do you make a point of telling parents that they and their children fill the church with joyful noise?
What actions could you take to show these families that they are vital members of the community?
"It matters that children learn that they are an integral part of this church, that their prayers, their songs, and even their badly (or perfectly timed depending on who you ask) cries and whines are a joyful noise because it means they are present."
How do you communicate this message?
How can you lovingly approach members of your congregation whose negative comments and attitude cause discouragement and harm?
As followers of Jesus we are called to do everything we can to ensure that all are accepted just as they are – "that they don't need to wait until they can believe, pray or worship a certain way to be welcome." How are you responding to that call? As one very wise pastor said, " if we don't expect them to participate and make noise when they are two, how can we expect it at 22?"
May the grace of our Lord Jesus Christ, and the love of God, and the fellowship of the Holy Spirit be with you all.