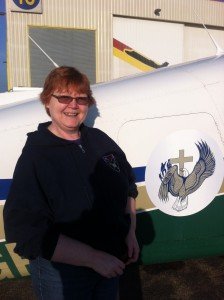 This week our post has been written by Fiona Brownlee. Fiona is a gifted writer and Christian Educator from Wetaskiwin Alberta. You can enjoy more of Fiona's writing at Flowers and Dragonflies and Faith From the Edges
Every year On Eagles Wings takes teams of two to five people to remote northern  communities to run a Vacation Bible School/Bible Camp for a week. These communities are scattered throughout the Northwest Territories, northern Alberta, northern Saskatchewan and northern Manitoba. The volunteers come from both the United States and Canada. On Eagles Wings is an ecumenical ministry made up of Lutherans, Anglicans, Roman Catholics and many others. They only ever go into a community if they have been invited by the church leadership of that community.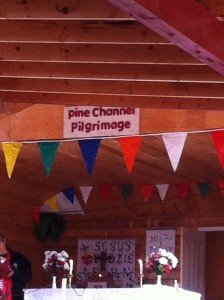 I was given the amazing privilege of joining their Executive Director, AnnE Zimmerman, to go to a remote community in northern Saskatchewan for the week of July 7-14. We flew up to Fond du Lac from Edmonton in the On Eagles Wings plane. On that plane was our luggage, sleeping bags, and all the craft supplies we were going to need. No running to the store if something was forgotten. Then we travelled from by boat to Pine Channel, which is an island in Lake Athabasca about an hour by boat from Fond du Lac. All in all in took us about 4 hours of travel from the time we left Edmonton to the time we got to Pine Channel.
Pine Channel is a holy place where the Dene people gather from a number of First Nation communities in the area. Everyone set up their camps from one end of the island to the other. A new community was built and we became a part of it. This was a time of spiritual and social pilgrimage for all of us.
Each day AnnE and I had time with the children to go through the VBS curriculum, which this year is called W.I.N. – Wonder in Nature. We shared a Bible story, prayed, sang, played games, made a craft and prayed some more. In many ways just like a regular VBS program that might be found in your church. Here is where it is different. AnnE and I don't look like the children – we are both non-aboriginal women and all the children are Dene. I had to remember to speak slowly and to wait for the answers, not just give them if no one answered. I had to remember that many of the children had been through some kind of trauma so gentleness was needed at all times. I had to remember that I was a guest and has as much to learn as the children did.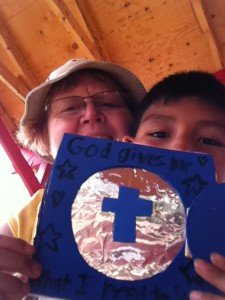 There was another group of guests there with us from Kings College of the University of Western Ontario who were also working with the children, working with the On Eagles Wing team (AnnE and I) and learning from the elders at Pine Channel. We were all living in community and it was an open community. This meant that from about 9 am until the curfew bell rang at 11 pm there were children, young people, adults and elders around the area that we were camping. We all needed to come up with ways to engage the children, the young people and the elders in conversation, which meant slowing down and not always rushing off to do other tasks. Not always an easy option for this very task oriented person.
On Eagles Wings and the ministry they do in the north is about more than being with the children and running a Vacation Bible School. It is a ministry of presence and community. It is a ministry of engagement with another culture, it is teaching and it is learning.
I got asked on the day before we were to leave if I would go back to Pine Channel, my answer was a definite yes.
Have you had an opportunity to do Children's Ministry in a place or time that was out of your comfort zone? What did you learn? Would you do it again?