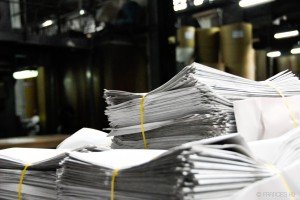 I spent the better part of yesterday expressing the spiritual gift of "administration". I use quotes on that because it doesn't feel much like a gift. When I am in "the zone" I can accomplish enormous amounts of work – and plow through paper like its snow on a breezy winter day. The danger of being in "the zone" is that I might miss something that someone has to say because I am too focused – so I work at doing "administration" when others are around to chat. I had to finish all the bulletins for Sunday with a baptism, and the certificates, as well as the bulletin for a wedding, its forms and certificates and the music that goes with it all. I was a flurry of paper and printers and toner and scissors and stickie notes.
All this work got me thinking, because while I was working away the people coming and going were all commenting on the state of my desk – bits of paper flying and piles falling over. One of the wittier wags that hangs a hat here reminded me that my desk is an outward and visible sign to an inward and spiritual grace (or lack thereof). In the usual banter, I fired back that in order to make omelettes, one must break some eggs. We both giggled and then chatted while I folded the first 125 bulletins.
Spiritual work messes things up. Grace is a messy business that upsets how we see ourselves, how we see the world, and how the world sees us. When grace gets a hold of us, all the usual pieces of the puzzle don't fit the same way anymore. The grudges we hold wont matter, the anger we harbor fizzles and the compassion we have been seeking for ourselves spills out and ends up running away with our hearts and emotions. We end up changing. Changing is messy business.
By the end of the day, the desk was neat. The paper was cleared, the 300 odd bulletins and other bits of that great spiritual gift of "administration" had been collated, stapled, folded, smoothed and stacked, and the office looked like itself again. The mess was temporary – but it will return – like grace, it will come back to shake me up and be sure that I remain pliable and willing to listen to the Holy Spirit who calls us all out of our messes by making a new mess…a mess of Grace!