I like to think of prayer as a conversation with God. One of the reasons I like meditative practices is it's an opportunity for me to stop making noise long enough and perhaps listen so the other party has a chance to respond. (More on meditation later…) Sometimes I believe I'm hearing back. Sometimes the other party seems to butt in.
Last week I had the opportunity to ride my motorcycle from Calgary to Hinton Alberta and back. Believe it or not, this was a business trip. The shortest route was via the Icefields Parkway  which runs from just west of Lake Louise to Jasper. It passes the Columbia Icefields and follows the Athabasca River north from there. Another not-ugly route. The weather on the way up was gorgeous but on the way back it was cold and raining from time to time.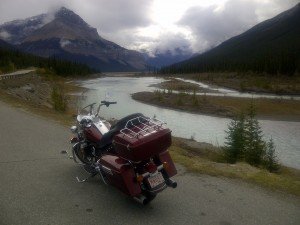 As I often do on my bike, I was praying on the way back as I was getting closer to Lake Louise. I actually like to pray out loud and, on my Harley, wearing a full face helmet, on a fairly deserted bit of highway, I was not too self-conscious about being overheard. I was saying prayers of gratitude for the gorgeous scenery, the opportunity to make the trip, and my life in general. The rain was coming and going and in the midst of the cold and rain, the sun suddenly broke through the clouds and warmed my chilled body for maybe 20 or 30 seconds, right in the middle of my prayers. That was a surprise . My next thought was "Thanks for the hug!" It felt really amazing.
So what was that? A coincidence of meteorology? Perhaps I should throw all my engineering and mathematical tools at this incident so I can properly label it. Or I could just say thanks for what felt to me like a response to my prayers.
Have you had similar experiences? How do you experience God's response to your prayers?