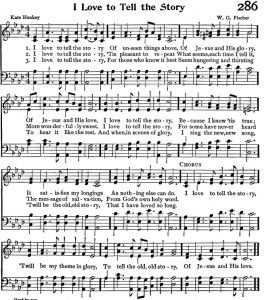 When I was just a little guy, I remember that my Grandmother would often sing one of her favourite hymns, I Love to Tell the Story…
"I love to tell the story of unseen things above,
Of Jesus and His glory, of Jesus and His love…."
I loved hearing her sing that hymn… I guess I might say it had some influence, as many of the things she did, on my wanting to tell the story.  It is a great story. It is a tremendous story! It is good news!  It is a story that we are called to make known to others. One of the key questions of the baptismal covenant reads, "Will you proclaim by word and example the Good News of God in Christ?" Put differently, we could ask, "Will you tell the old, old story?"
In the multifaith and plural communities in which we live, some may at times feel this a difficult task. I confess that I certainly feel no need to tell a Muslim or Jewish friend about Jesus in order to save his or her soul.  Indeed, reducing telling 'the story' to trying to save people from their own faith, is to break another covenantal commitment to 'respect the dignity of every human being.' So what does 'telling the old, old, story' look like then?
I begin every day with a daily mediation from spiritual great Henri Nouwen as written in Bread for The Journey: A Daybook of Wisdom and Faith. Thursday's wisdom form Henri was a call to tell the Story of Jesus.
 The Church is called to announce the Good News of Jesus to all people and all nations.  Besides the many works of mercy by which the Church must make Jesus' love visible, it must also joyfully announce the great mystery of God's salvation through the life, suffering, death, and resurrection of Jesus.  The story of Jesus is to be proclaimed and celebrated.  Some will hear and rejoice, some will remain indifferent, some will become hostile.  The story of Jesus will not always be accepted, but it must be told.

We who know the story and try to live it out, have the joyful task of telling it to others.  When our words rise from hearts full of love and gratitude, they will bear fruit, whether we can see this or not.
I think sometimes we who know the story of Jesus really well, are shy about it. I think, in fact, sometimes we are even embarrassed to admit that we know the story of Jesus. But Henri Nouwen's words are a reminder that telling the story of Jesus ought to be a joyful task. If we can access the gratitude that we have in our hearts for the love that has been poured into us, we might discover the joy there is in telling others about 'Jesus and his love.' That act of telling others about our journey and our experience of God as expressed in Jesus can and will bear fruit, in ways that we might never understand. The fineold hymn put it this way:
I love to tell the story; more wonderful it seems
Than all the golden fancies of all our golden dreams.
I love to tell the story, it did so much for me;
And that is just the reason I tell it now to thee.
I love that verse most especially, because it speaks to why I love to tell the story. "It did so much for me!" When I am able let my heart fill with love and gratitude, because of what God has does for me, telling the story of Jesus in word and in action becomes a much easier task, and it becomes more authentic. When I consider how Jesus has been present to me in my times of sorrow and in my times of joy, my heart is filled with gratitude. When I consider how I know the story of Jesus because I have seen it lived out in the lives of the community of Saints, my heart is grateful and wants to express its thanksgiving.
I think responding to God's love with gratitude allows us opportunities to tell the story – and let the story speak for itself and bear its own fruit. I have had plenty of opportunities, in the past few years especially, in interfaith and multifaith settings to 'proclaim by word and example the Good News of God in Christ.' In each of those moments I believe that God was doing marvellous work and the fruits of those conversations are indeed God's gift that I may never come to know or understand. But I do know that when I tell people of other faiths about Jesus with a willingness to hear a friend express his/her love filled faith to me, I have been drawn closer to God and I come to know Jesus all the more. I have been called closer to God by hearing people of other world religions tell me about their experience of God's love.
I am also keenly aware that every opportunity I have to listen to other Christians tell me about Jesus and how they have known him, brings me closer to God. There is a line in another similar old hymn that my grandmother used to sing, (Tell me the Old, Old, Story) that reads, "Tell me the story often, for I forget so soon; the early dew of morning has passed away at noon" I often say, I have a good memory but it is short! Every retelling of the story of Jesus, serves to remind me of why my heart is full of gratitude for what God has done for me. It is easy to know God when we are in the immediate moment of a crises and God is there beside me. It also easy to forget God's presence when things are spiritually dry, or when life just marches on in a static beat. So hearing that story of Love retold is a gift to those of us with a short memory.
"The story of Jesus is to be proclaimed and celebrated.  Some will hear and rejoice, some will remain indifferent, some will become hostile.  The story of Jesus will not always be accepted, but it must be told…."
Will you proclaim by word and example
the Good News of God in Christ?
I will with God's Help