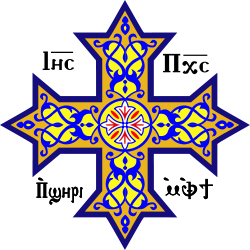 As some may have heard, many of our Christian
brothers and sisters are in mourning at the death of their spiritual leader, Pope Shenouda III.
Pope Shenouda served as Pope and Patriarch of Alexandria since 14 November 1971.  During his papacy, he appointed the first-ever North American dioceses with bishops that now contain over two hundred parishes.  When his papacy began there were only four parishes in North America.  His life had an amazing breadth of experience.  He was a monastic, living in a cave, a great educator and reformer and he suffered exile and imprisonment for his faith.  Shenouda was committed to the ecumenical movement and had, since the 1970s, advocated inter-denominational Christian dialogue. He was a prolific writer and teacher.  He drew people to Christ through his teachings on "the rules of understanding, peace, dialogue and forgiveness."
We as Anglicans have had a long standing relationship with Pope Shenouda. In response to that relationship the Most Rev. Dr. Mouneer Anis, Anglican Diocese of Egypt, wrote a wonderful tribute to Pope Shenouda III.
"Our relationship to the Coptic Orthodox Church is the strongest among the different denominations in Egypt. Several times he mentioned to me how much he appreciated the fact that he started his career as a teacher of English in our Anglican School in Cairo.
Pope Shenouda was a continuous encouragement to me personally and to our church. He always sent representatives to our events and celebrations. At our nomination he received an honorary doctoral degree at a great celebration from Nashotah House in Wisconsin, USA. Pope Shenouda will be greatly missed, but he will always be remembered as a great leader, teacher, partner and bishop.
In our churches we have prayed for the Coptic Orthodox Church and we have thanked God for Pope Shenouda, his life and his ministry in the assurance that he now celebrates eternal life with his Lord Christ. During his life he often told audiences 'rabbina mawguud', God is present in our midst. He now experiences this to the fullest possible extent!" An exerpt from The Most Rev Dr. Mouneer Anis' obituary for Pope Shenouda III
Send a note or email to your local Coptic Orthodox Church expressing your love and support.  What a beautiful way to show that we are one in Christ!