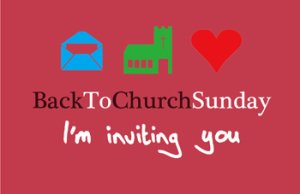 Last week I commented and asked the question about what we're inviting people back to with the Back to Church movement. A couple of people commented, "good questions!" and I even had one email from someone suggesting that I was against liturgical congregations. (For the record, I'd be a hypocrite if I was saying that, because I worship in liturgical settings almost daily.)
I wanted to push the Back to Church topic further and see what people are doing in preparation for September 28.
Has your congregation(s) planned anything special?
Have you thought about you will invite?
Is your congregation even participating in Back to Church?
The other night, I was googling BtC and came across some videos on youtube. Then it occurred to me, Fred Hiltz and Susan Johnson love making videos. Perhaps someone gifted in writing and directing could prepare a version of this for them to record.
What are you doing to invite people back?
.