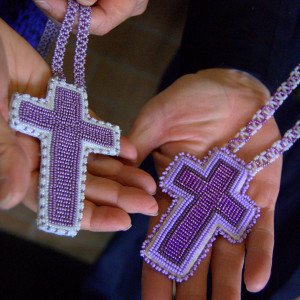 Yesterday I interviewed Archbishop Fred Hiltz, Primate of the Anglican Church of Canada, and National Bishop Susan Johnson, Evangelical Lutheran Church in Canada about truth and reconciliation. At the end, I asked them, "What stood out for you about this TRC?" to open up space to add anything that hadn't come up in the interview. The Primate thought a bit about it and then shared with me a few things. He mentioned that through the TRC national events, and in Edmonton in particular, there was increasing attention given to intergenerational survivors. That is, there was more testimony from, participation by, and acknowledgement of the children, grandchildren, and other family of residential school survivors.  This had the powerful effect of underscoring the lasting trauma and damage inflicted by these schools on their resident children.
From these intergenerational survivors we heard how, though they did not attend a residential school, the pain carried forward in their own lives. Many struggled to overcome broken connections in their families and experienced ongoing cycles of abuse born out of the treatment received in the care of church and government.
From a settler and reconciling perspective, this is extraordinarily helpful to hear. When the church works for justice and reconciliation for the wrongs of the Indian Residential Schools, intergenerational survivors remind us of the broader social forces at play. What was done to one, was done to families. What wounded one, wounded whole communities. To this end, prayerful repentance and justice-based reconciliation must cast a similarly wide net. Our words of apologies, gestures of reconciliation, and commitment to justice must include intergenerational survivors and their communities, too.
During the interview, Bishop Johnson reminded me that repentance and reconciliation also have a ripple effect. The presence of the ELCIC, which offered its first expression of reconciliation at the Edmonton event, is testament to this. The ELCIC had no direct involvement in residential schools. Yet, as full communion partners with our church, the ELCIC is walking with us on our journey and discerning how it can also participate in healing and reconciliation. This is deep and meaningful relationship that recalls the words of Hebrews 10, "And let us consider how we may spur one another on toward love and good deeds, not giving up meeting together, as some are in the habit of doing, but encouraging one another – and all the more as you see the Day approaching."
In light of Indigenous rights and the TRC, how have you been spurred toward love and good deeds? How can we faithfully do the same for others?