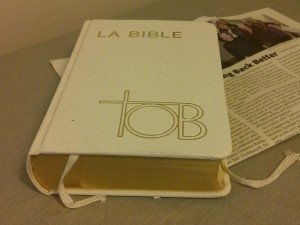 Today, 28 July 2014, marks 100 years since the assassination of Austrian Archduke Franz Ferdinand. This has been widely credited with being the trigger event that started what we now call the First World War. While there were numerous underlying causes and tensions, this day is recognized as the anniversary of the start of that war.
Without getting into too much of the history, I think it's safe to say that the world was changed by this war – one of the deadliest in history, one which inspired numerous political and social changes – and we remain impacted and influenced by it, to this day.
So here's a question: Did this centenary enter into your prayer life at all, in worship this weekend or today?
And here's why I'm asking. The Church of England produced a number of resources to commemorate the event – not glorifying the violence, but as a faithful response to the reality. Lest we forget indeed. They planned for poppies to bloom across the country, they developed numerous liturgical resources, they are providing historical vignettes through interviews and stories. There's an entire webpage to explore: https://www.churchofengland.org/ww1
For me, this touches on deeper issues. Namely, how well do we connect the good news of the Gospel to the headlines of the newspapers? I've often heard the quote (of unknown source) that we should preach with a newspaper in one hand and a Bible in the other. Is that what preachers are called to grapple with? Is that what congregations want to hear?
Or, do we choose to ignore the secular world's devastations and instead seek the refuge of scripture during our worship times?
I don't have any answers – I'm still pondering. But I personally believe that we ought to be able to find meaningful ways for the faithful to be nurtured in the good news while being aware of the challenges of this world. It is my effort to let the timeless Good News bring the promised healing to the hurts we feel from today's headlines; and that means at least acknowledging them.
(Full disclosure: I used some of the CofE resources in my personal office, but not in the Sunday worship… though this week's sermon did touch on several of the world's devastations from this week.)
I'd be most grateful for others to join in this conversation… Preachers? Worshipers? Theologians?