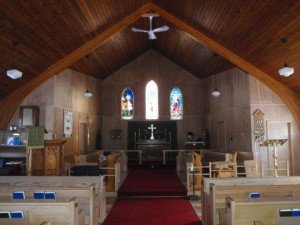 Our worship services end with a dismissal, one of which invites us to "Go in peace, to love and serve the Lord!". To this, we all heartily declare "Thanks be to God!" and then, of course, we go out.
But do we take this dismissal seriously? Is our first thought upon departing the church building (or other worship space) 'Now HOW am I going to love and serve God today?' Do we come up with a plan to engage the world, in peace, in an attitude of service?
I think we do. Based on my experience, the first thing people do once the worship has ended is they stay in their pews – not because the pews are super comfortable, but because they are entering into prayer. Having just spent time in worship and praise, and being invited to go out and actively serve God in the world, the first thing people are inspired to do is pray.
This suggests, to me, that people are taking their mission and ministry seriously, and are asking God to be part of it; to join them on their journey out of the sacred space of the worship and into the sacred nature of the world. They are inviting God into the aspects of their lives that are especially poignant and important for them individually. They are inviting God to be with them, in heart and mind and voice and action, as they go in peace.
It is that peace, which passes all understanding, which reminds us of the awesome power of God in our lives; it is this peace that I hope everyone feels at some point during their prayers.
It is that love, full and complete, that we are commanded to make known to the whole world; it is this love I pray we feel and share, loving others as God first loves us.
It is into that service, assisting those in need that they may be built up, that we are called; it is through this service that I pray we know we are more blessed to give than to receive.
And so it is an invitation and a mission for us all: go in peace, to love and serve the Lord. It is no wonder that we begin that mission with prayer; thanks be to God indeed!
Originally Published in The Mustard Seed, Sept. 2014