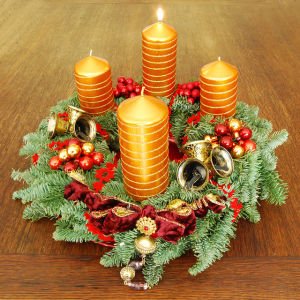 "Prepare the way of the Lord" was part of our scriptures in this morning's lectionary. It's a great reminder from Isaiah, reiterated by John the baptizer, that we're meant to be getting ready to welcome Christ into our lives.
So… how's that going for you?
Many of the folks I've chatted with this past week (myself included!) have been busy with preparations, to be sure: they're making cleaning schedules, shopping for that perfect-yet-on-budget gift, searching out Christmas outfits, going to parties, making holiday menus, planning seating charts to keep dueling cousins apart, practicing Christmas songs, decorating house and tree…
The list goes on. We're all getting ready; we all want it to be a great Christmas.
But – we're in Advent. It is a beautiful, distinct season in the Christian calendar. It's a season that should be respected and honoured for what it is. I find it ironic that this season of watching and waiting, of patience and prayer (and penitence, originally!) is so often spent caught up in secular tasks and hurriedness.
Ought we to be more focused on celebrating Advent as part of our Christian witness, rather than getting swept away into the secular rush to the 25th? Should we be more intentional about acknowledging and enjoying Advent, not just in our churches but in our lives? To do this is to go against the flow, to break away from the norm. It's directing our hearts toward Christ, not Santa; directing our energy toward peace and parousia, not presents and parties. It's not necessarily popular in culture – but it never has been. John the Baptist went against the flow, Mary went against the flow, Jesus went against the flow – we have some great role models just in this short season.
With that in mind, I wonder how people out there are engaging with this Advent season: within your church, are there special readings and prayers? Advent candles in a wreath? Timely hymns? Blue vestments? Lessons and Carols? Individually, how are you recognizing the blessing of the season: home prayers? Devotional readings? Candles and prayers with the family? Lanterns? Calendars?
I am curious to know how folks are celebrating Advent. What are your favourite Advent hymns? What is your favourite Advent scripture? In what way are you showing the world your inner, spiritual calm in preparation for the celebration of Christmas? How are you preparing for Christmas, not just 25 December?