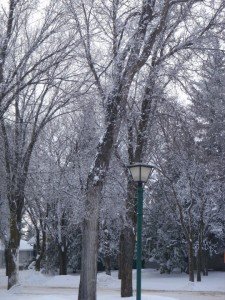 Winter can be a really pretty time of year. For me this weekend, the temperatures were comfortable, the sun was breaking through the clouds, and a nice gentle snow was peacefully falling.
However, the prettiness is just covering a different reality. Friday was warm and sunny; the snow melted and refroze perfectly smooth, which is now covered with a light dusting of snow. Slippery, to say the least; also potentially dangerous. Walking today was treacherous; what lay beneath the surface made the pretty appearance inauthentic.
This got me thinking about how things are presented, and how things really are. It got me thinking about how that can relate to the church. As a whole, we as the church try to be welcoming, loving, well, we try to be churchy. Yet there are times when we let others down. We aren't welcoming, we've allowed bad behaviour to continue, we express negativity, we gossip.
Once, on holiday, I was warmly welcomed into a church for worship, then immediately kicked out of the pew I'd chosen to sit in by a rather cranky gentleman. What shocked me the most was the reaction of other regulars around him, when I stood up to leave: "Oh, that just so-and-so, he's always been that way." Um, maybe, but that doesn't make it okay.
A friend share her experience where she was told to lock up her son in a cage if she ever wanted to come back to church – and this was a community that advertised itself as 'child-friendly.'
What lies beneath the surface is real, and needs to be addressed. I expect we have all experienced, or heard of, some story that demonstrates the church not quite living up to it's mandate of sharing the light of Christ in the world. It starts pretty, but underneath the surface… well.
However, I also expect we all have stories of examples of how the church HAS done well; when the surface merely reflects all that lies beneath.
Today a friend shared his experience, where after the homeless feeding programme was done he invited a man with nowhere else to go to his office to pass the afternoon; he was told "days like today, where people are kind, feel like home."
Earlier this month Toronto's Holy Trinity parish held a memorial for a man who had died on the street, thereby opening it's doors and it's heart as a place for friends to mourn without judgment.
There are countless examples of the church doing well, and living it's mission authentically. The church can be pretty – on the surface, and underneath. The church IS pretty when it is authentic and true.
I believe the challenge is ours to make sure that what is demonstrated is pretty; and that what is pretty is authentic. Let's be intentional about how we are church: how we treat one another, how we welcome the stranger, how we deal with conflict, how we discuss budgets. Whatever we do, we are called to do it in love, in faith, in hope. I pray – especially in AGM season! – that we recognise this responsibility to show the world who we really are.