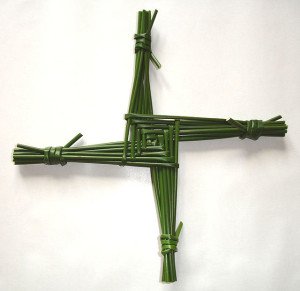 Today is a great day to celebrate! There's cause to gather together, and I don't mean some football game. Today is the Feast of St. Brigit—Brigit of Kildare, Brigit of Ireland—Brigit is an important woman in history and in the faith.
One of the patron saints of Ireland, (Patrick doesn't get all the fun!), she was a nun, abbess, and founder of several monasteries. She is known for organising intentional Christian community for women. There are numerous miracles accredited to her, from healing to righting wronged situations to multiplying rich foodstuffs for the benefit of community. According to tradition, a sacred flame is kept burning to this day at her Kildare monastery. She was revered for her gifts of hospitality and welcome.
She is the patron saint of babies and brewers, dairy workers and fugitives, sailors and scholars (and many, many more). She is further known for her cross, generally woven from rushes on this day, recognising the coming of spring and lambing season. A version of the cross is still given as a gift, with a prayer, to protect a home from any harm.
It's lovely when there are saints to be recognised in the calendar year. I think it's important that we remember the saints, who remind us of our communion with one another throughout time and space. The saints, as holy ones of God, encourage us to be steadfast in our own faith. They are the folks who have persevered in loving and serving God (and one another) despite significant adversity.
Saints days are important. They remind us of our history, they connect us with one another and with God through Christ. They teach us much of our history and offer us much inspiration and encouragement. And yet, so often we overlook our saint's days; by doing so I think we are doing ourselves a disservice. It is not merely a day on the calendar, a rubric to be chosen at will: they are worth remembering and respecting, they are more lasting and much more important than a sporting game or rodent-watching.
So may your St. Brigit's Day be one of blessings, of learning, of hospitality, and of prayer.
A prayer of St Brigit
I should like a great lake of beer to give to God.
I should like the angels of Heaven to be tippling there for all eternity.
I should like the men of Heaven to live with me, to dance and sing.

If they wanted I'd put at their disposal vats of suffering

White cups of love I'd give them with a heart and a half.

Sweet pitchers of mercy I'd offer to every man.

I'd make heaven a cheerful spot,

Because the happy heart is true.

I'd make men happy for their own sakes.

I should like Jesus to be there too.

I'd like the people of heaven to gather from all the parishes around.

I'd give a special welcome to the women,
the three Marys of great renown.

I'd sit with the men, the women of God,

There by the great lake of beer

We'd be drinking good health forever,

And every drop would be a prayer.