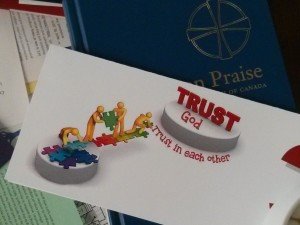 This weekend the Council of General Synod is meeting near Toronto. While the agenda is full, there is an emphasis on prayer and worship. We began the three days with a celebration of the Eucharist; we have sung hymns to gather us back from breaks; we have had ample opportunity to dwell in the knowledge of to whom both we and the work belong.
CoGS is a busy time, dealing with big issues and serious business. And the people called into this body are sharing thoughts and insights from a number of perspectives, contexts, and traditions.
Despite our differences, we recognise that we are here to listen to the movement of the Spirit and to delight in the opportunity to listen for and respond to God's call to ministry at this time.
The theme of this particular meeting is Trust God, Trust in Each Other; the cute artwork on our table signs shows avatars collaborating to assemble puzzle pieces bridging the void between two platforms.
In bible study this morning, we were reflecting on 1 Corinthians 12.4-11 celebrating different spiritual gifts; given to all, activated by God. The conversation I was a part of was diverse and vibrant; we shared how the scriptures spoke to us. We read things in different ways, we heard different senses of call, we were left with a different focus on the meaning of the passage.
Yet throughout it all, we treated one another as we wanted to be treated: beloved, valued, worthy. We were all invited and encouraged to share without concern of interruption or criticism or exclusion. We trusted God to lead us, we trusted each other to use Godly manners.
And it inspired me. It was beautiful to witness this interaction; in God, for God, from God. For me it was a wonderful discussion, but also a marvelous framework. Imagine, I thought aloud, if we entered into our ministries with this perspective: to trust God and trust one another; to respect everyone and to presume that we would be respected; to dialogue instead of debate; to avoid getting trapped in doubt and instead to dwell in hope; to love and be loved. Imagine how much could change in our lives if we engaged with one another free from cynicism and active in trust.
I'm not sure what would happen; but this week I'm committed to try it. It's not just a theme from a meeting, it's an invitation to better life. Trust God, Trust in Each Other.