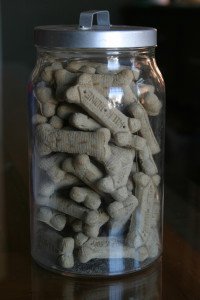 I live in a dog friendly neighbourhood. This is (for me) a good thing, as I have 2 large dogs. There's a lot of walking, barking, sniffing, playing, petting, etc. – dog stuff. For the humans, there's usually a chorus of "good morning"s and "How are you"s.
There's also an opportunity for random niceties to happen.
A few of my neighbours have dog bowls (cleaned and refilled daily) for anydog to take advantage of during the walk. Some keep extra bags handy for mess cleanup.
Last week, on garbage day, as we were approaching the collection truck (a veritable treasure trove of smells!), the driver got out and asked if my dogs could have a cookie. He keeps a collection with him, and hands them out as he goes along the route. Needless to say, my pups had wagging tails of thanks as they munched their snacks!
It was a random act of kindness. I don't know that collector, but he made my day a little brighter by his kindness. (Admittedly, anyone who collects another's garbage – literally – is doing a wonderful kindness!) A simple thing brought a smile to my face and an opportunity to reflect.
When was the last time I did something just to make a stranger's day better/brighter/nicer? When did I go out of my way even a tiny bit in order to bring a smile to a loved one's face? When was the last time that I loved my neighbour, simply because I could? When was the last time I took seriously the second command that Jesus himself gave to us?
We cannot please everyone, we cannot make everyone's world perfect; but we can do our best to make a life a little happier, even if for only a moment. So perhaps instead of focusing on how to make ourselves happy, or how others have made us happy, we should be re-focusing our intentions to our neighbour.
How have I already made today better for someone else? What can I do now to make today a little better for someone else? How can I love God, and show that love to the world by loving my neighbour?
I suspect there are many ways we can all make today better for someone else – through the little things. And in the process, we'll find our own day has gotten a little bit better too.