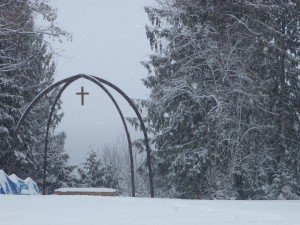 For me, one of the great joys in leading worship is how I get to proclaim a very personal and intimate prayer for each and every person present. I get to make a joy-filled request of celebrating God's presence, to everyone I see, when I use the words: "The Lord be with you!"
It's a simple statement, one so common that we all know the response: "And with thy spirit" for fans of the BCP, and "And also with you" for BAS folks. It's an automatic reply (so much so that there are Star Wars 'force' jokes!), yet it is also a prayer in return. When we're responding this way, we are able to acknowledge that someone has made this prayer for us, a deep and profound declaration of hope for God's involvement in our lives. And it gets even better as we are able to return the gift, and ask God to be present and celebrated in the life of the officiant as well. The response is just as personal and intimate; so much so that in one parish I served a friend would sometimes include my name at the end: we heard "The Lord be with you" replied to with "And also with you, Laura Marie!" It shocked me at first, touching so deeply into my soul that it took my breath away.
These few words are an entire and beautiful prayer, just as they are. They are also a call to prayer, in conjunction with other common sections of the liturgy. And it is this prayer that invites us all to consider our relationship with the living God, who is active in our lives.
I fear that sometimes, the simplicity of this prayer may cause us to overlook its richness. Yet this prayer is one that I hope we all take quite seriously, quite personally, quite profoundly: the words themselves may be simple, but the intention and result of offering them is not.
The Lord be with you: the Lord of love, of life, of peace, of joy. The Lord who created you, redeemed you, and sustains you. The Lord who embodies so many images of comfort and support that we can each make our own connection and relationship with one of them: protective parent, caring shepherd, creative omnipresence.
The Lord be with you: the you who has been sought out and is known, who was chosen by God to be part of God's great and inclusive family. You when you are living your faith fully, and when you are struggling with it. You on your good days, and on your bad. You who has been granted grace and forgiveness and perfect love.
I pray that every time we hear these words, we do not move too quickly through them, but rather that we hear the full and wondrous intention of community and love that is held within them. I pray that we take the opportunity to reflect on these few simple words and see in them an invitation to reach out more to our families, to our neighbours, and to our God. I pray we recognize the profundity of prayer that is being said for us, and equally the depth of prayer we are being invited to say for others. I pray that these words may come from our hearts and minds not just our mouths.
Truly I pray: May the Lord be with you, beloved of God.