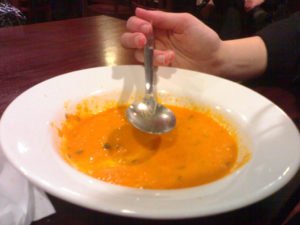 One of my friends recently shared her experience volunteering at a soup kitchen, whose menu was limited to a plain baloney sandwich and two choices of soup. She made eye contact, smiled, and addressed each person either 'sir' or 'miss' as she asked each person what their soup preference would be.
For her, it seemed the right way to serve soup.
She was shocked to have another volunteer tell her that she didn't need to call them 'sir' or 'miss' – just dish out the soup and be done with it.
While we've all had bad days, when our grouchiness comes across a bit too easily, I think that trying to spread a little extra sunshine is a good thing. Clients who frequent soup kitchens are in some form of legitimate need; I expect they would much rather be in a different situation for their daily bread.
My friend was offering something of substance – and not just by what she was putting into the bowls. She had opted to take her baptismal vows seriously, and was actively seeking out the Christ in every person that came through that line. She was recognising the dignity of every human being, especially those that were literally right in front of her.
And she was criticised for it.
In a society that seemingly wants to assign blame and shame, we are challenged as Christians to do the opposite. Rather than judging perceived causes, my friend simply responded to presented need. Rather than engage with the too-easy cynicism against "those people," my friend engaged with those people whom God had put in her path that day, to the best of her ability.
With statistics suggesting many families carry increased debt and little-to-no savings, almost anyone could find themselves in need at any time. One hopes those people would find compassion and care being shared alongside the necessities of daily life.
It's my hope that each of us might respond to the needs of the world around us, in real ways, simply because we can. It is my prayer that we respond to living our baptismal vows at every opportunity. May we open our eyes to see the needs of those around us; open our ears to hear the subtle and not-so-subtle requests for our help; open our hearts to engage our bodies in the act of truly loving and serving one another, as we vowed in our baptism. And may we do this with the joy of the Lord emanating from deep within us, that we too may spread a little sunshine into the darkness of the world.