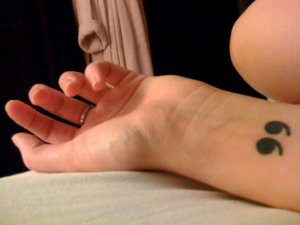 My friend Kate always has a lovely literary quote as the signature for her emails. (We're book nerds; it happens). She changes the quotes every so often, depending on what has struck a chord with her.
It's a wonderful practice—I've found myself thinking more often about what quotes have meaning for me. I find myself going back to quotations that have shaped my worldview: "The nobility of our lives depends upon the manner in which we come to understand and fulfill our assigned role." (Thomas Berry) or my theology: "The truth of human freedom lies in the love that breaks down barriers." (Jürgen Moltmann). Some I find using in fairly regular conversation, whether they reflect my love of theatre: "The lady doth protest too much, methinks" (Shakespeare) or poetry "I ask the tree, "Tell me about God"; then it blossomed." (Rabindranath Tagore) or from my childhood reading "And now here is my secret, a very simple secret: It is only with the heart that one can see rightly; what is essential is invisible to the eye." (Antoine de Saint-Exupéry)
We live in a beautiful age where we can be formed by words ("words, words, words!") They mark our being, and support our speech, our thinking, our perspectives. They inform our reading of other passages; including our reading of scripture. (Tagore's poem brings to my mind the tree of knowledge in Genesis and Revelation; Berry reflects 1 Corinthians 12.12; de Saint-Exupéry makes me think of the beatitudes…)
I see these as ways to continually remind myself of the great learnings that God is giving to us; how God continues to speak to us all today—and throughout history—through existing words that interconnect over time and space.
What are your favourite quotes? Why do they resonate with you? Do they cause you to relate more directly with the scriptures?