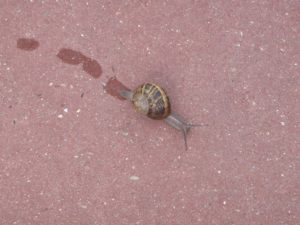 A few years back, while on a rather adventurous and excitement-filled vacation, I spent some time watching a snail.
No, really. That's him/her/it in the picture.
I had come to realise that in the midst of all of the busy-ness of my schedule, I was becoming so overwhelmed that I was missing out on some of the content of the sights that I had travelled (and paid handsomely) to see. I was seeing so much that I was normalising the wonder by skimming it over, presuming it had nothing new to offer.
So I watched a snail cross a footpath. Slowly, seemingly with purpose (perhaps just to get to where the grass was cool and soil moist).
And it was a great way for me to spend my time. It helped me regain perspective of the trip, and as a result, I began paying more attention to what was in front of me—whether it was the eighth wonderful thing of the day or the first, I gave it my proper attention.
I was reminded of this snail experience as I began preparing for Advent. This Sunday's lectionary reminds us that time is not something we can control; it has never been. And in the scriptural times, without the modern benefit (benefit?) of watches and carefully scheduled and synced calendars, time was even less structured. And that was okay—time simply was. Today—time simply is.
We cannot go back, we cannot rush forward, we cannot slow down the clock (despite our long Advent lists of things to do and special services to attend and baking to be done and… well. That's just it. We can get ourselves so busy in the rush to Christmas that we miss the beauty of Advent: understated, calm, anticipatory Advent. We can become so overwhelmed by the quest for the 'perfect' Christmas that we deny ourselves the joy of the journey. We can so normalise the frantic—like my sightseeing tour—that we don't appreciate the ordinary—like the snail.
Yet we can choose to do it differently. We can choose to delight in the calmness of the kairos—the God time. We can choose to accept that we cannot control time, and that it is okay. We can delight in the reality of the journey, and intentionally appreciate the time that we have in this blessed Advent.