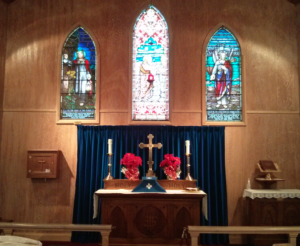 Christmas is coming! Are you ready?
Really, who is?! We're still just getting used to being in Advent. Let's not rush things!
And yet—let's be prepared. Preparation is, after all, what this blue season is about.
So as we prepare to welcome the Christ child into our hearts, let us also be aware that we will (likely) be welcoming guests and newcomers to our worship services.
And that's where it can be wonderful, If we choose to make it so. While we all think that we're friendly and welcoming, the experience of an outsider may reveal a different perception. So what can we do?
Someone at the door to greet a newcomer, offer a bulletin, and even help find a pew can show guests that we are interested in their feeling at home.
Someone sitting with a visitor, and helping to navigate through the service (with the hymnals, prayer books, bulletins, and any local customs) indicates a desire to make that person feel a part of the church—the body of Christ.
Someone inviting a newcomer to coffee hour or lunch (and engaging with them in conversation) rather than sitting where we always do, with the friends we always do.
Someone sharing the positive expressions of church will demonstrate to a guest that the community gathers in worship and prayer, and wants to convey only the best image of that community.
Yes, it does mean that we may need to go outside of our own comfort zone. It may mean sitting in a different pew, or changing up the people we have our coffee with, or not complaining about whatever one might complain about. It may mean finding ways to be more intentional about welcoming Christ's beloved into our midst.
But it's worth it. It's worth it as this is our opportunity to welcome the stranger and offer hospitality. It's not often anymore that people just happen to wander through the doors of the church; in this season where they may do just that—let us welcome them! Let us embrace the reality that God has guided them to our building, to our worship service, to our church family. Let us celebrate that they have responded to a spiritual longing within themselves and have been bold enough to come to us.
Let us welcome all of those whom God will put in our path. And let us give thanks for the opportunity to offer hospitality—welcoming others in Jesus' name.