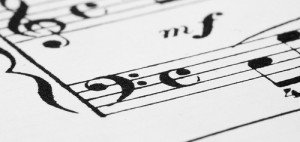 I spend a lot of my time listening to music. Last week my sister and I were comparing our iTunes collections – both are large and eclectic. But we listen to different types of music at different times and for different purposes. For working out, I have fast-paced pop in a playlist that keeps my energy up. My driving music is usually jazz or folks that I can sing a long with. My reading playlist is primarily classical. Depending on my mood, I'm listening to rock, Christian, alternative, motown, children's, blues, country – you name it, there's likely something in my collection.  And I do find that what I choose to listen to relates to my mood – whether it's the music itself or the lyrics.  After all, as Leo Tolstoy wrote, "Music is the shorthand of emotion."
This past weekend I had opportunity to spend a lot of time in my car. I had recently purchased a couple of new albums, so used my driving time to listen to them. As I was listening, I realised that I was subconsciously picking out messages of hope and light and life – Christian themes – in this 'secular' music. I realise that the lens through which I see the world is a Christian one, and that I aim to reflect theologically on all that is around me. I delight in the intersection of the sacred and the ordinary.  I'll share two examples; one from St. Paul's Cathedral in Regina, where on Sunday morning one of the hymns we sang (Let Streams of Living Justice) was to the tune 'Thaxted;' this is actually a portion of 'Jupiter' from Gustav Holst's "The Planets" composition, which was not originally intended for the church.  Another example was driving home, I was thinking of some recent challenges in my life when I heard Mumford & Sons song "Hopeless Wanderer;" the lyrics that include "When your hope is on fire/ But you know your desire/ Don't hold a glass over the flame/ Don't let your heart grow cold/ I will call you by name/ I will share your road." What a great reflection of God's presence in my journey to love and serve.
So I thought today, as I sit here in the snowy prairies, I would invite us all to share some of the music that speaks to our souls.  Are there lyrics that shed some Gospel light into your life?  Is there a piece of music that spurs a memory of a Holy experience?