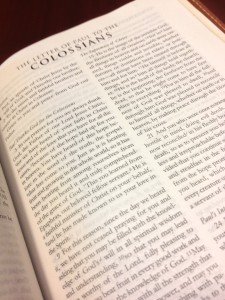 "I read the wrong reading!"
I hear a number of variations of this from time to time as we conduct worship around this great parish. There have been times when they've read the readings assigned for the week before, or the week ahead. There have been times when they've read verses from a different chapter – or even a different book. They may be reading and simply forget to stop at the assigned place.
Sometimes, folks are ware of the gaff. Sometimes they're not. In the parish I serve, our readers are delightfully dedicated volunteers doing their best to give glory to God – and so, unless I'm preaching directly to a particular passage they've missed, I don't point out what's happened.
Why not? Because I believe that there is no 'wrong' reading. There are the readings assigned for any day of the calendar, and there are the readings not assigned that day. But so long as the readings are coming from the Bible, they are not wrong. And I believe that the Spirit is using the readings to speak to us. Maybe the readings assigned for the day weren't meant to be heard by someone at that time; maybe what was read from the lectern was exactly what was needed for someone to hear.
I also believe that any one of us, at any age and stage of life, can make mistakes – and that we don't benefit from having a harmless mistake pointed out. It can make someone intimidated to the point that they don't want to continue being a reader in church. It can be critical enough to make someone feel uncomfortable about their role in communal worship. It can be disrespectful enough to really cause hurt feelings about this important ministry.
I have great respect and appreciation for the many readers who are involved in the parishes I'm blessed to serve. I have great respect for them as they bravely face those unpronounceable words, as they speak with or without (sometimes in spite of?) the microphone, as they speak in front of congregations of 2-200 people. I have full confidence that they are serving their community with grace and with dignity – and that they are always given the right words to speak., whether it's what was assigned in the lectionary or not.
After all, God doesn't give us the wrong words.