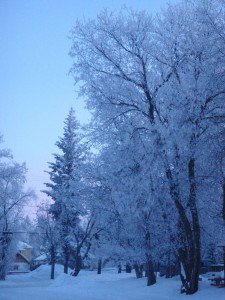 It's a little chilly these days in the prairies. Here in the best parish in the country, we got a good dumping of snow on Friday (around 8 inches! Gorgeous!) And then the temperatures dropped. And dropped. And were forecast to continue to drop (which they did.) It wasn't too surprising, then, that the phone calls stated Saturday afternoon to cancel Sunday services. In general, we have a -30 concept… if the temperature (before wind) is going to be below -30, then it's probably not safe to be driving (especially in this beautiful rural setting).  It's not a wimpy thing, it's a safety thing; there are many areas where cell phones get no service, there are many back roads with little or no traffic, and not everyone in the congregation can be described as a "spring chicken."
To be fair, I hate cancelling church services. I love gathering together to worship – these congregations are my parishioners, but they're also my family, and we really do celebrate our time together in prayer.
This particular Sunday is disheartening to miss; we were scheduled to celebrate the Epiphany. I was happy with my sermon, I had worked long and hard on it and was eager to engage in the conversations it would (I hoped) inspire. (My church families here enjoy engaging with the scriptures and sermon material following worship – blessed!). I was hoping we could focus on the Isaiah challenge to find a way to live out the God-shared luminescence abundant in our lives! (Arise, shine, for your light has come!) God has been made manifest on earth, it's up to us now to respond in action! Let 'church' be a verb!
My plan was to bring a high energy message this morning. Then the weather intervened (even colder than forecast; -35 with windchill of -52. Brr.). And so, my best laid plan has had to change. Safety comes first: we daren't risk the health and safety of our loved ones trying to breathe in the extreme cold, the risk of ice, the slipperiness of fresh snow. We ought not waste the fuel and funds and mechanical stresses trying to start our cars (if they will), nor to heat the buildings comfortably for the very few who might try to venture out.
My reality this morning, therefore, is rather different form my plan. I am still celebrating Christ's light in my world; I lit my candle and offered my own prayers this morning from the comfort of my living room. It's a significantly lower energy worship than I had planned but maybe this is what God intended for me. Maybe God is directing me to a Sabbath of calm and quiet. Maybe I'll have a minor epiphany of my own later today, an 'ah-ha!' moment where my call to action will be revealed. Maybe any of these things will happen to anyone of my church family who will likewise (I have no doubt) be offering their own prayers at home.
I reflect this morning a hope that I can discern whatever it is that I am meant to learn from this change of plans. I challenge myself to be open to God's light and grace even when – especially when – it comes in a different form than I am expecting; and I pray I can respond to those changes faithfully. A change of plans isn't necessarily a bad thing, just a different thing – a different way to see and follow the light of Christ revealed into this dark world. Or, as my morning prayer said: "Christ, as a light, illumine and guide me." (Celtic Daily Prayer, Northumbria Community, p. 18)