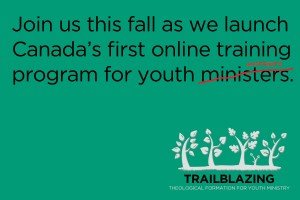 It may not be a matchup you'll find on the next MMA pay-per-view, but it's still a bit of a battle. Who are we exactly – are we youth workers or youth ministers?
Over the past few months, members of the Youth Initiatives Team have been working hard to prepare online theological training modules for youth workers. These modules, or "trails" will be launching this fall under the name Trailblazing: Theological Formation for Youth Ministry. It's an exciting time.
And yet, as we've been testing the modules, an interesting linguistic problem has come up, and I'm trying to sort it out. How does the average parishioner working amongst youth view him- or herself? Is he a youth worker? Is she a youth minister?
The question has direct relevance to the project, but also to the broader ministry of the church. While each of us has a ministry, while each of us is called by God to minister in various ways and in various places (no matter our work or place in life), we struggle to identify these things as ministries.
When it comes to working amongst youth in the parish context, there is almost an implicit division between trained "ministers" and volunteer "workers." What is it that causes some to think of themselves as ministers, and others to think of themselves as workers?
And perhaps more importantly, what does this distinction suggest about the ministry of all the baptized?