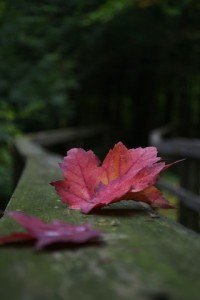 This past weekend I had the privilege of participating in a McGill University chaplaincy-sponsored student interfaith forum (iF?) retreat on the Gault Nature Reserve at the foot of Mont St-Hilaire in the Eastern Townships. The group was small, but split equally in gender, and quite diverse in faith backgrounds: a Muslim couple and their toddler, three Christians (one of whom heavily identifies with Sufism), one reform Jew, one Unificationist, two faith-unspecified spiritual seekers, and two entirely undeclared. The weekend was at once relaxing and action-packed, including activities such as hiking, bio-energetics, yoga, labyrinth-walking, rock-painting, water-tasting–all knitted together with shared meals, discussions, and moments of personal prayer and meditation.
One late-evening discussion took shape around the concept of asking for and receiving the gift(s) of a fulfilling life. Although the conversation did not give rise to any biblical (or other textual) references, one may want to consider a passage such as Luke 11: 9-10 as a convenient way to frame the topic. I reflected aloud to my friends that the "receive" end of the equation is deceptive in its simplicity. If I speak up and ask for something, surely the easiest part must be the delight of actually receiving it? However, while this can be true, I have also had the experience of something quite different: the shock of realizing that what I have requested is in fact on the verge of manifesting, accompanied by a feeling of utter discomfort and inability to accommodate.
Perhaps this scenario is best summed up by the phrase "be careful what you wish for!" One way to understand it is that our knowledge, no matter how much of it we boast, is limited and imperfect; and what may seem like something worth pursuing in one moment may turn out to be quite the opposite with the passing of time. Things change, and our minds are no exception; it is for this reason that we are admonished to "think twice" or to "sleep on it."
However, there is also another way to contemplate the issue. Although we may know what we want, and the request is noble, we are simply not ready to receive it. Perhaps the timing is awkward; or perhaps we simply are not mature enough to process the full ramifications of what is being offered, our eyes unable to open wide enough to take in the magnificent range of colours, shades, and textures presented before us.
In the final hour of the weekend retreat, as we waited for the bus that would bring us back into town, I gazed out the back window of the cabin at the predominantly maple foliage in rapid transformation from summer green into fiery red, yellow, and orange. One tree particularly drew in my attention. It reminded me of a tree in the backyard of my family's house where I grew up. Contemplating this tree literally time-warped me back to a time when all that made me feel secure, comforted, valued, and inspired was quite differently defined. And while it was tempting to nestle myself in these soothing childhood fantasies, I was equally and unavoidably aware of my other, more current existence, in a completely changed dimension.
These thoughts and feelings made me wonder what it is that I have been asking for all these years that has brought me to such a privileged place of enriching and respectful fellowship with this small group of gracious, compassionate, and life-giving friends, even though outwardly it appears most different from how I imagined my life growing up. I'm not entirely sure, but in the end, the quality of difference has led to the discovery of gifts that have been nothing short of amazing to receive. Our intellect and emotions may not entirely know that for which we are asking, but our heart surely does.