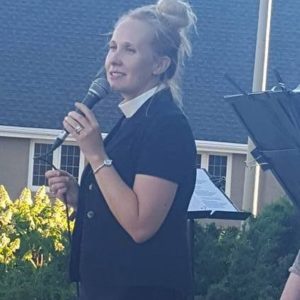 It took over twenty-three years to convict Anthony Edward Ringel in the rape and murder of my classmate Christine Harron. We knew her as Chrissie, and she disappeared when we were in Grade 10. I remember when she came to our school in Grade 2. We played intensely for a few days as she got settled in, but then we both drifted off to our respective patterns of friendship. Her pattern of friendship was minimal. Chrissie spent a lot of time alone.
The word "murder" was never even whispered about her disappearance at the time. There were whispers, but they all involved her running away from home. There were even sporadic rumours of Chrissie sightings, reports that she had talked with her brother over the phone, and for a number of years, there was a Missing Children sign that would appear on the back of trucks with a sketch of what Chrissie was thought to look like now. In 2001, I did an internship at a soup kitchen in Toronto and half-expected she would turn up for breakfast one day, and I would recognize her. "She's become a neo-Nazi," someone said, so I was looking for a skinny girl with a shaved head.
What I possibly thought I would say to her, should I have seen her, I have no idea. The problem was, I suppose, that none of us really knew her. None of us sounded an alarm. Chrissie Harron slipped through the cracks: we didn't insist on answers to her disappearance, we didn't look for a body, we didn't grieve her death, we didn't shed the tears of regret for friendships that could have been and care that should have been extended. She was gone. We went on with our lives.
In 2004, a drunk man in a bar in the rural Ontario of my childhood confessed to killing her. The investigation was so badly bungled that it was thrown out of court. Last week, the same man finally pleaded guilty to the murder in a court of law. It seems an accidental conclusion to the story—it was a sloppy drunken confession, rather than the communal insistence that should have rallied around Chrissie all those years ago, that saw answers given and justice served.
To my knowledge, there has still never been a memorial service for Chrissie, whose life ended in terror, violence, violation, and cruelty when she was just a child of fifteen.
When I first began working with our National Indigenous Bishop, Mark MacDonald, on our Water Project—exploring clean water solutions and advocacy for clean water in our First Nations Communities—he said something very interesting. He noted that our First Nations communities often operate as a sort of "canary in the coal mine." That is, they tend to issue signals to all of us of toxicity and danger in the system. It was a disturbing observation on many levels: that it could be the case that we could use a whole people in such a casual and disposable way; that we might fail to pick up on the signals our brothers and sisters are sending because, for a whole variety of reasons, we just don't see them. Bishop Mark's reflection about water was telling though. The lack of access to clean water in First Nations communities should sound an alarm to all of Canad: not just that we are allowing a majority of our aboriginal brothers and sisters to live in third world conditions while the rest of us enjoy a privilege that we take entirely for granted, but also that we are not adequately caring for our natural resources and ensuring the protection of waterways that sustain life for all of us. In other words, this is about justice for our aboriginal brothers and sisters, but as Jesus noted, "as you do for the least of these, so you do for me." We are connected whether we acknowledge it or not. The care that we fail to extend to those most vulnerable will come back to haunt us.
In the same way, the reality of Missing and Murdered Aboriginal Women is finally raising the concern and compassion of Canadians for hundreds of aboriginal women who have been allowed to just evaporate—without proper investigations, without answers sought and given, without bodies found, without memorials held. The tears and anger and frustration that those closest to these women felt were never given public expression and outlet, and therefore never led to that collective cry for action on behalf of these women.
And, if we begin to rally for that investigation to finally take place for these women, there may be a spotlight that can be shone on the broader chasms across our Canadian landscape that allow us to act as though some people matter and some people can just disappear. I now live in St. Catharines, the home at one time of Paul Bernardo and Carla Homolka, the site where brutal and deliberate murders of young girls took place in the 1990s, in a similar time-frame to Chrissie's sad story. All around town are reminders of one of their victims, Kristin French, in memorials and dedications, in the stories of her friends and family who still actively remember and mourn her. This is a right and fitting way that we can extend care and honour to a beautiful girl whose life was cut so tragically and brutally short. But if you visit my hometown of Hanover, you would be hard-pressed to find any visible care and honour that was ever extended to Chrissie. Chrissie was not aboriginal; Missing and Murdered Aboriginal Women tell a story of our Canadian failure on behalf of our indigenous people and they also point to a broader failure. There are stories of loss and tragedy all across our country that we have failed to mark, of people whose lives came to a brutal end, and we never came together to tell that other story—of how, in the end, this person was treasured and loved, and we will work together to ensure that what happened to her will not happen again.
This past Sunday, we marked The Feast of All Souls' in our church community. Also known as "The Day of the Dead," it is a huge religious festival actually set for November 2nd (or November 1st in some places). The church in which I serve reads the names of those in our community who died over the previous year; we light a candle for each of them. There were many tears shed for these people, both on Sunday and over the previous year—holy tears of grief which encompass love given and received, gratitude for their lives, closeness for that sense that we have (I would say amplified in our holy house of prayer) that they aren't so very far away.
But what about the ones that we haven't loved and cherished enough? What about the ones that we fail to name, to see, to remember, to give a voice? What about Chrissie's mother, who has shouldered this burden of loss and injustice for twenty-three years, mostly alone? What about all of the mothers and sisters and closest family and friends who have cried alone for those they have lost? Why haven't we heard them and cried with them? In Canada, we have failed a whole group, Aboriginal Women disappearing and murdered in astounding numbers and we have not listened to their cries or searched out their story. We failed Chrissie Harron and all of the others that we allow to simply drift out of our sight. God promises that all of us are valued and remembered in the eyes of the divine. God made each of us with care and love, knew us from before our birth, and, as Christians, we believe that God pays particular care and attention to the little ones, the overlooked and forgotten and voiceless and neglected. I can imagine in the inadequate and mostly metaphorical images I might have of heaven, that a special honour guard of angels was sent to Chrissie as she breathed her last, to carry her with the most tender expression of love from this world to the next; that God rolled out the red carpet for her, the choirs of heaven sang for her, and that the holy saints were there to bind up her wounds and to gently wipe every tear away. God would have made sure that she was treated with the dignity and attention that she lacked from her friends on earth.
I pray that God made up for our failings. But I also pray that we can make up for our failings. I pray for answers for Missing and Murdered Aboriginal Women; for the cries of their loved ones to be heeded, for their lives to be given the attention and remembrance that they deserve, that they didn't ultimately die in vain and that we will pledge on their memory to do better. I pray that November 2nd, The Day of the Dead, will be a time when we remember our loved ones and give thanks for the imprint of love that they have left on us. But I pray, too, that it will be a day of repentance. Repentance: turning around, turning around to look again for the ones we have failed.
Rest eternal grant to Chrissie, O Lord, and let light perpetual shine upon her. May her soul, and the souls of all of the departed, in your mercy, rest in peace. Amen.