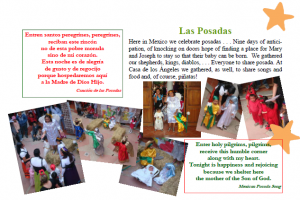 Happy New Year from the Preacher's Table! The light has come. Join us as we consider the readings for Epiphany.
Are you telling the story of the Magi in a new way this year? How well do your folks understand the history of this event: astronomers travelling for years? Their setting within the massacre of the innocents?
Our supporting readings are full of hope and wonderful musical choices. Arise! Shine! Your light has come! How do we celebrate this majestic coming in the midst of the troubles of this world?
The picture on this post is from a newsletter from a daycare centre my youth group and I volunteered with in 2010, Casa de Los Angeles in San Miguel de Allende, Mexico. The children re-enact the journey of Mary and Joseph to Bethlehem. Their story continues as well, as they journey on to Egypt and then return.
This month my parish is beginning the Natural Church Development process, so I am taking a congregational development theme this Epiphany. How do we welcome the stranger? How are we shining the light in our community? What gifts has God given to us to share with our community, even the gifts that seem strange?
This little light of mine, I'm gonna let it shine…