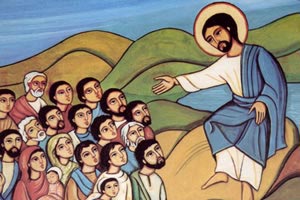 Do you know what all pictures of Jesus preaching have in common?
He has nothing in his hands. Not even a Bible!
Today when I should be completing my Epiphany sermon, I found this blogpost on facebook by Landon Whitsitt, author of Open-Source Church.
Preaching without a manuscript
I have done this, but I prefer not to. I find it hard to organize my thoughts, and then end up rambling. I find writing the manuscript is the easy way. It keeps me organized and on track.
Landon recommends not preparing a conclusion as a way to ease into preaching without a manuscript. Conclusions are the worst for me. That's why I force myself to a manuscript, otherwise I preach 3 sermons trying to wrap up the one I am trying to preach! Still, Landon provides a good way to ease into this. I might give this a try.
To be honest, I have heard many veteran preachers say they don't need notes. Dozens. Of those, I could count on one hand the number who were not overestimating their abilities. I remember one, we had invited him to come from another province. He shared that he started to talk to his wife about what to preach about an hour away from our event. That was the extent of his preparation. I had been in ministry all of 5 minutes, no seminary training, and my boss said I could have done a much better job myself. Good preaching without notes is not "winging it" or "waiting for the Spirit to move". It involves a great deal of preparation.
How about you? Do you use a script? What works best for you? Do you prefer to hear a preacher without notes? What makes the difference?