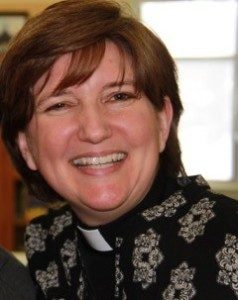 Seven days ago, I sat down at our family dinner table and told my children about what I was going to be doing while I would be away from home and why it was important for me to participate in the work of the General Synod of the church. I told them as much as I could about what I, as a General Synod first-timer, was able. I mentioned to them that we would be voting on allowing gay people to marry in the church. My 15-year old looked at me and said, "You are kidding, right?" I replied, "No, I'm not, this will be the biggest topic." To which she replied, "Mom, you people in the church need to move on. Excluding gay people from marriage is ridiculous." And so I went to General Synod with a strong viewpoint on the necessity for the church to be as inclusive as I feel Jesus would want it to be—a viewpoint that I had at the very least been able to successfully teach the teenagers that sit around my dinner table.
I participated in General Synod 2016 and by now most of you have probably read about the roller coaster ride that it was. Indeed, I am thankful and joy-filled for the final outcome on the Marriage Canon. However, I did not leave General Synod with elation, but rather with a profound recognition of the complexities of our church and the many challenges that sit ahead of us, not simply those of the Marriage Canon—challenges of deep diversity that may never come to an end, but rather may simply be part of the ongoing ethos of Anglicanism.
Together the delegates witnessed to others the burden of our tradition's complexity, a burden that sometimes can be carried with joy and make us stronger, and at other times can weigh so heavily upon us that we drop to our knees. It was a weight that seemed to rest upon each and every delegate, regardless of our positions.
Moment after moment each of us recognized the deep diversity that sits in our church, the deep hurt that can emerge when humans gather together and allow their anger and frustration to take over at the expense of others, the capacity some of us have to avoid those who think differently than we do, and the unbridled way in which other individuals can be drawn to each other in heartfelt embrace even across the chasm of differing views.
Moment after moment we recognized the weight of trying to conduct matters of importance within the imperfect human systems of governance, structure, consultation, conversation, technology, and even language. A clicker became a scapegoat, taking the blame for something we forgot: that in all spaces as heavy as these, we must leave room for both correctness and for error.
Emotions, both positive and negative, fell heavily upon us—perhaps most profoundly when over two hundred delegates, filled with a plethora of different feelings, were held together by a rolling storm of silence that took control. It was a storm that could only be outdone the next day, when silence once again took over and each in the room was obliged to experience the emotions that those opposite had felt a mere twenty hours earlier.
General Synod 2016 will forever impact the journey of many. It may never be forgotten, especially by those who sat for hour upon hour at any of the tables in that plenary room. It was difficult and gut-wrenching. It was blessed and filled with joy. It was challenging and it was transformative. It was filled with profound sadness along with profound celebration. It had moments that were frivolously light and moments that were heavy.
Now, as it has come to an end, its weight will enter communities across the country who will carry the joy and the challenge of its burden.
When I returned, one of the first things my son said to me was, "Did we win, Mom? Can everyone get married?"
"Yes, I guess we did. It didn't quite feel like a win, though," I replied. "Lots of people felt hurt at different times in different ways. Lots of stuff happened and it was really heavy and hard for everyone there".
"That's okay, Mom, don't worry," he said. "It's a good thing and it will all work out like it is supposed to."
"Yes," I replied. "You are probably right. I sure hope it does."