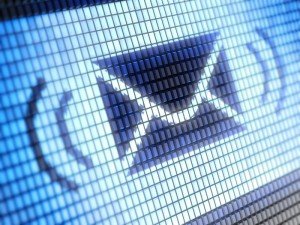 In today's world of Twitter, Facebook, and Pinterest, it is sometimes hard to remember what the first Killer App of the internet was email. And for most of us, it still is.
Broadcast vs. conversation
There are two main ways we use email in our parish communities: Broadcast and conversation. Today, I will deal with email that is broadcast, that is, emailed to a group of people from a central source to keep them up-to-date on news and information.
A sample solution
Historically, most people have used a manual list of names and email addresses and sent the email message out from your computer. This is good if you are looking for quick-and-easy, but it can take a good amount of time to keep this list up-to-date.  As well, you can only email out from one computer: hard to manage if you are working from home, or travelling.
There is a better way. There are services that will, for free or a small cost, manage your email lists (including subscriptions, managing emails that are out-of-date, and unsubscribing). One such service is MailChimp. We have been using MailChimp at General Synod for a few years now, and have been very happy with the results.
For most parishes, the free service offered by MailChimp will be more than enough. For free, it will send out up to 12,000 emails per month. That is one email to 12,000 people, or 100 to 120. The only thing that MailChimp asks is that you follow their anti-spam policy, and that you allow a link back to MailChimp so others may sign up.
The key thing to remember is: Thou not spam. Make sure you have explicit permission from everyone you add. Mailchimp has a great beginners guide on best practices. Have a read before planning your list, even if you do not use Mailchimp.
This is just one option. There are many others. Are you using one? How are you using email? Let us know in the forum below.