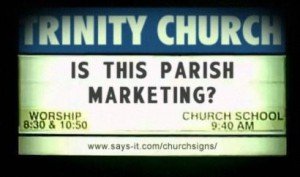 An interesting resource on parish marketing  came across my desk today, and it is good enough I wanted to share. Entitled Marketing Your Parish: Advertising Best Practices for Effective Evangelism, it comes to us from The Episcopal Church Office of Communication. It is a short but idea-packed document on how to leverage modern marketing practices to reach prospective members. Here is how they describe what you will get out of the resource:
» How to "plunder Egypt" — what you can take from the world of commercial advertising
» What a conversion funnel is and how to use it
» How to generate inbound leads
» Getting the most out of your church's website (HINT: It has nothing to do with your homepage)
» The 5 components of a church marketing plan
You need to register to get a copy, but otherwise is free.
Have a read, and tell me: What do you think? Does it fit into your parish experience? How are you advertising for prospective members?
(h/t to Randy Murray at the Diocese of New Westminister for highlighting this resource)