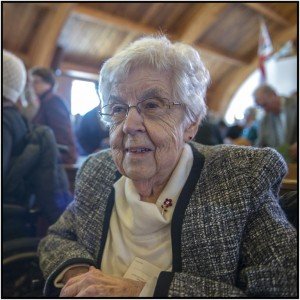 Let me share with you a story. In the spring of 2008 I began monthly visits for Home Communions with an elderly couple of our parish, offering them God`s presence in word and sacrament, combining the prayer of the church with fellowship and compassion. This couple had been faithful throughout their lives, engaged in the worship and ministry of the church, as well as engaging in their vocations as school principal and teacher, respectively. With their increasing age, it was becoming increasingly difficult for the couple to attend worship. In the course of the following year, the husband, Roland, died.
In the course of my visits, a deep friendship developed between this couple and me. Roland and Ruby had become persons with whom I engaged in deep conversation about society, the world, and the role and effect of faith in a changing age. I was concerned following Roland`s death, that Ruby might be consumed by grief, and start to slowly disengage from her family, her church community, and society in general.
In her late seventies, Ruby had an amazing transformation. In the course of grief follow-up, she found challenge, purpose, and growth. She asked me oh so many questions, exploring the roots of her faith, and finding ways to engage in her journey. She relocated, closer to the church, and walked every day. We in the parish applauded her ministries, and were humbled by her transformation. She offered herself as president of the Anglican Church Women. She became a Synod Delegate, and served on Vestry. She completed Godly Play training in the Diocese, and headed up our Church School ministry. She offered herself for Vacation Bible School, and seemed to be excelling in all that she did.
Throughout this time, my friendship with Ruby grew deeper. We read books and shared ideas. I shared ministry project ideas to an open, non-judgemental ear. Though she was older in years, Ruby`s faith had budded, as she continued to grow and develop. Her prayer, reading and ministry had deepened; she engaged in Bible Study, and even hosted a Neighbourhood Bible Study in her home.
Late last year, Ruby was diagnosed with inoperable, terminal cancer. It seemed as if the whole parish rocked and reeled with the news. One who at a time could be easily overlooked in the life of the church, had become a light and beacon to others. I had heard people say,  "If Ruby can do this, we should be able to do so as well." It seemed as though we were all deflated. There were questions, challenges, and many struggles over the next weeks. All of us were affected, and responded to her situation with apprehension, prayer, compassion and love.
There have been many ups and downs with Ruby`s journey this year. I have been so thankful for her support to me, and the support that her family and the parish family have offered to her in her illness. She has had days where I have thought she had given up. Amid the rollercoaster of her treatments and tests, she has questioned, and grappled with her situation.
Ruby has stabilized these past few weeks. She is frail, yet determined. She attends worship each Sunday, and continues to pray. We continue to journey with her as the community of faith.
Many times age seems to be a barrier to ministry and mission in the church.  Persons are overlooked because they are too old or too young. We dismiss the quiet, introverted souls as we strive to respond to the squeaky wheels in our communities.
In this province many of our faith communities are dwindling in size, and increasing in age. Young families are moving to Alberta, to Ontario, and to larger centres within Newfoundland and Labrador. It is easy for us to dismiss and diminish the role of seniors in our midst, when we treat them as seniors. Through my friendship with Roland and Ruby, I have encountered deep friendship and deeper faith. Ruby`s blossoming in faith and action has encouraged me to look farther, deeper, and longer, with all whom I encounter, regardless of age or circumstance.