This blog was originally published here.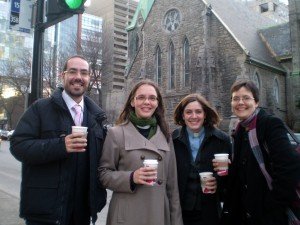 Collegiality is the cooperative relationship between colleagues – between people who are in league together. It comes of shared experiences and shared goals and a commitment to the well-being of both the project or institution and the individuals involved. It means knowing you can ask for help when you need it and offer insight when you have it. It is good for your soul and it gets good results.
I learned firsthand about collegiality while in seminary, right here at the Montreal Diocesan Theological College. Faculty and students shared a depth of commitment to one another and to the church that I continue to draw upon, both formally and informally. One of the challenges of ordained ministry is that it can, in a funny sort of way, be lonely. Priests and deacons are, of course, in contact with many, many people every week but most of us (I'm an exception!) don't go into an office where we work side by side with other church leaders. The relationships I formed at Dio provide me with a network of people across the diocese with whom I can collaborate, commiserate, and celebrate. My work, my faith, and my vision is stronger as a result – and I trust theirs is, too!
It was this experience of collegiality that inspired me to kick start Conversation 2014, a conference for Canadian Anglican clergy born after 1973. I wanted colleagues all over the country, not just in this diocese and, happily, I am not alone in that desire. On June 17th, thanks to a generous grant from General Synod, a small crowd of young(er) clergy will arrive at Cathedral Place for three days of learning and praying together.
Conversation 2014 is an "unconference". That means that there is no key note speaker or outside expert joining us. Instead, the content of the conference will be generated by the participants as we share our own experiences, expertise, passions, and concerns. Conferences of this style allow for themes to emerge and develop according to the needs and interests of those attending and can result in projects or extended conversations that bear fruit well into the future.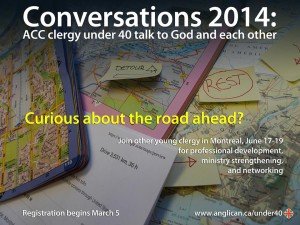 One question that often comes up when people hear about Conversation 2014 is why it is limited to clergy of a certain age. Younger clergy will always be in the minority at any other conference – having one to ourselves gives us a chance to monopolize the conversation. As younger clergy, we have a particular perspective – one that has less past and more future as we lack the experience of our older colleagues but are looking to build lives in the church for many years to come. This is not a better or a worse perspective but it does, I believe, offer some interesting insights and see some interesting possibilities.
Of course, our generation is as diverse as any and the conference will gather people from many different contexts with very different lives. Participants are coming from the far north, out west, and down east where they serve little rural parishes and big urban ones or where they work in hospitals, schools, or the military. Some of us are parents, some of us are single, some of us are conservative, and some of us are radical leftists. There will be much we do not agree on and many experiences that are not shared but we are gathering with a desire to learn from one another and grow in community together.
We won't, however, be all alone in this process. Janet Marshall, Montreal's own diocesan congregational development officer, will help us hear one another more clearly and Eileen Scully, director of Faith, Worship, and Ministry, will help us communicate our thoughts to the broader church. Many conversations will begin at Conversation 2014 and we are committed to ensuring they don't end there.
The biggest reason, however, for a conference of young clergy is the promise of collegiality. This cohort has an opportunity to begin building a network of colleagues now that extends across the country and will sustain its members, their ministries, and the church for the decades to come. We will not be younger clergy forever but, God willing, we will be working in this beloved church of ours for a long time. I, for one, would rather do that work together.