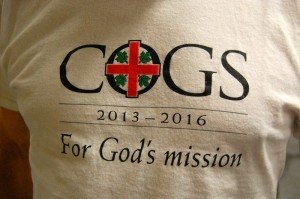 I'm presently at the meeting of CoGS (the Council of General Synod, the body that meets face-to-face twice per year between General Synod years). This triennium I am here at CoGS representing the PWRDF. (CoGS is made up of a number of elected folks at General Synod, plus a few extras, like partners from the ELCiC and TEC and PWRDF).
It's a fun meeting; I say that fully aware that I am a self-professed 'church meeting junky'. It's a busy meeting though; there are hundreds of pages of reports, back to back reporting, engaging conversation.
There are highlights being offered each day, so that folks outside this group can follow along with what's happening. Anyone wanting to follow along can link to the Anglican.ca website here.
I'm going to offer some of my own highlights of CoGS; these are the things that are not likely to make it to the formal reports but are important for me to reflect on.
My highlights include:
Engaging worship, where we gather in prayer and praise
Bible studies in our table groups, where we get to journey spiritually and engage with God's grace as the basis for our meeting conversations
Respectful conversations even when we disagree on the subject matter, people making the effort to see the Christ present in each and every one.
Humour and laughter as we focus on the moments of joy
Support as we journey forward, trying to be the best we can be
Trust that the Spirit will guide us all
Open hearts and minds, a willingness to listen, a willingness to share
A genuine sense of family; we're all here to serve in God's church as we live out God's mission in God's world.
Monday we'll finish this gathering with lunch; after which we'll all head back to our own respective parts of the country, to work and school and families and friends. But our work here will stay with us, not just because there remains a lot of work to be done. It will stay with us because we are working together, in love and faith a God's people. And when we next gather in the fall, our time together will still include an extended to-do list and a large docket, but it will also include the benefit of knowing we will be coming together again as the body of Christ, to make more highlights.