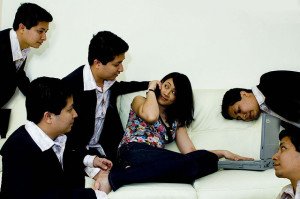 A friend recently said to me "I don't want to be needy!" We'd been chatting, and she had shared some challenges. I assured her she wasn't being needy.
A few hours later, I was chatting with another friend, and I expressed some of my challenges to him. "Sorry!" I said, "I don't mean to be needy!" He laughed, and said I wasn't, and our conversation continued.
Later, I got to thinking and reflecting on neediness: mine, and others'. What does it mean to be needy? In basic definition, it refers to someone who is lacking the necessities of life; someone in the throes of poverty. In a more casual sense, what we had used in our vernacular that day, needy meant someone requiring or demanding attention at all costs. (Maslow's hierarchy of needs helps to define categories of need, and details how without the most basic needs being met, one cannot even consider the next level of needs. For example, physiological needs come before safety, which come before intimacy, etc.)
In both conversations that day, we were not dealing with issues of poverty nor of 'neediness.' We weren't being needy; rather we were expressing an identified desire. We wanted a friend to listen to our challenges, and to truly hear them, and offer support. Not solutions, not platitudes, but a friendly, honest, listening ear. (Which, in both cases, was given.)
My reflections then took me further. Why did we both assume that articulating a legitimate need would suggest an innate neediness? It's not just from those two conversations, either. Many of us tend to associate someone who identifies a need as being needy (with a negative connotation). That neediness is a drain, it's tiring, it's excessive.
As a result, I think as a whole we tend to be less inclined to share our legitimate needs. We don't want to bother others, or be seen as emotionally needy. By doing this, we keep our stresses and hurts and confusions to ourselves, trying to brave through them as though nothing is wrong. Despite the fact that we logically know that we should reach out, we hesitate. This can result in poor judgement, bad decisions, depression, etc. It's not just keeping us caught in the problem, it actually makes things worse for us. This in turn make one's peers perceive someone as being needy, high-maintenance, tiring to be around, sometimes affixing unhealthy (and unhelpful) labels of the 'drama queen' or 'attention seeker'.
So the times that we do open up with an emotional need, it can be healthy. It acknowledges that we have been self-reflective enough to identify that need; it affirms that we trust the other person sufficiently to share that need without fear of mockery or judgement. It suggests that we are seeking advice or help with a situation, stepping toward resolution or reconciliation. It indicates that we want to deal with the issue before it overwhelms us, addressing the root causes before it becomes a huge thing that could make us become overbearing, unhealthy, emotionally needy; presenting to our peers as the drama queen, attention-seeker,
These are positive steps. They are steps of living in community, which is what we're called to do. We're challenged to open up about our selves as much as we would want others to open up to us. We're challenged to have healthy and sustaining relationships where we can seek support when we need it, and offer support when someone else needs it. We're challenged to work together towards maintaining these healthy relationships.
We're challenged to realize that sometimes when we express a need, we're not being needy – we're being active participants in a healthy community.