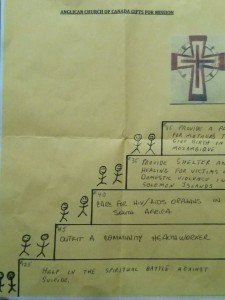 "I've got something you can write about!" was the energetic greeting from a friend. "If I write it, it might be bragging – but you write for The Community…"
Indeed I do! And there are times when inspiration is short and someone else's story is a delight to share. So here's a good news story from a small rural parish.
The parish is small in numbers but strong in faith. They're facing the same challenges that many of our churches know: aging population, declining numbers, increasing expenses, physical structures in need of repair. They're also experiencing the internal challenges that many of our churches know: with decreased revenue, we start focusing more on inreach than outreach; we start focusing on our limitations rather than our opportunities.
The rector had an idea to change that focus. They had received the Gifts for Mission resource from the national church, selected a few of the options, and spent a couple of weeks on each. The overall plan was shared on Sunday mornings, they discussed the needs themselves at coffee hours, they reflected on biblical passages that supported the contribution of these needs.
Fully aware of their own situation, and more ware of the situation outside their own four walls, the parish pulled together with enthusiasm and commitment. They knew they couldn't do everything, and they knew they couldn't do it alone. But they all pulled together and contributed a little at a time, and were able to make a difference. The 'gifts' they contributed to ranged from $35 to $125, and in some way touched someone within the parish.
The gift bucket was always placed at the back of the church, where people could contribute if they wanted to, but not feel guilty if they didn't. There were nickels and dimes, and bills and cheques. And it all added up.
The last week of the challenge, the rector announced at the beginning of service that they had indeed done a good work to glorify God; and that they had collected enough funds for almost all of their challenges. Apparently "almost" wasn't good enough for the congregation at that point, as they had been moved by the Spirit to this challenge, and by the end of the service a few additional donations were made to exceed their goal.
This is good news. This is good news because it means that the folks recognized a call to serve the broader church, and responded with enthusiasm. It's good news because these folks came together in mission and ministry, finding new ways to build God's kingdom. It's good news when people celebrate the shift from "we're too small to make a difference" to "we have been involved in something much bigger than ourselves – and are the better for it!" It's good news because they ignored the temptation to only think of themselves – they still need to think about the heat and the stipend and all that. It's good news because it shows that great things can happen no matter how many are gathered together – be it 12 or 1200. Jesus changed the world with a small church of only 12 – we can impact our communities and our world with our churches.
This little parish knew that it could – and so it did – reach out in faith. Imagine if this year all of our churches challenged themselves with the same commitment and energy! They knew – know – that it's not about the number recorded in the vestry book; it's about the strength of heart and faith reaching out into the community.
The Gift Guide is shared and promoted in the fall, but with some searching can be found online year-round: http://actsoffaith.unxvision.com