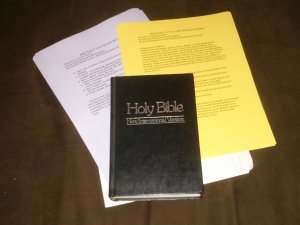 This past Tuesday, the parish I'm serving started a summer bible study. We're getting together once a week to dive deeper into the Holy Scriptures; each person from their own bible, to better understand what the Word of God is saying to us today in our lives.
We had a great first gathering, chose a book of the bible to read, asked a number of questions, shared a number of stories, went on a number of tangents. It was fun. When we needed to break for the evening, we closed our time together in prayer. It was a peaceful end to a lovely evening.
What we didn't do, however, was realise how lucky we were. We were lucky that we could gather in a safe place, a calm place, a holy place, to study scriptures. We were lucky that we could share our opinions and ask our questions as they came to us. We were lucky that we could pray together and travel home safely.
The next night, as we all know, violence and devastation erupted in a similarly holy place in a similarly focused gathering. A time and space dedicated to studying God's word and prayer was corrupted as 9 people lost their lives in Charleston, South Carolina. (May they rest in peace and rise in glory.)
And since then, there have been many articles, comments, interviews, speculations – in the media, in church gatherings, in watercooler discussions. The discussions range through shock and anger and fear, from accusations to defenses, from articulately researched positions to emotional-based expressions. There is blame, there is hurt, there is politicking and finger-pointing. There are headlines and sound bytes. Throughout it all, there is the unknown. We do not have all the details, we do not have a full understanding of events, and we likely never will.
What we do have is the opportunity to remember this the next time we gather, and the time after that, and the time after that. We have opportunity to recognise our fortune in gathering in safety, in freedom, in peace. We have opportunity to be thankful for the privilege of coming together in God's house to read God's Word with God's people. We have opportunity to know that so often, so many of God's children are not as lucky as we are in these realities.
We have opportunity to pray:
For the times we have lived more in fear than in faith.
For the times we dwelt in hate, refusing to love.
For the times we refused to acknowledge and address systematic injustices.
For the times we have taken for granted the liberties we enjoy.
For the times we have focused on perceived scarcity, not the truth of abundance.
For the times we have forgotten to count our blessings.
This coming week, at Bible study, we'll gather again – to study, to pray, to be aware of the cost to some people to undertake a similar activity. We will come to bible study with our own impressions, emotions, perspectives; we will come with a new awareness of being the people of God.