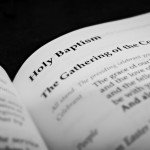 Do you ever reflect on your baptism? I have to admit that I never used to. My own baptism was something that occurred long ago. My baptism 'happened' when I was 13 days old, when I was dunked in the kitchen sink by a beloved priest whose name I can't remember. And because that event is so long ago, I rarely have seen it as having any relationship to my life as it exists in this moment.
See, I have been guilty of sometimes viewing Baptism as an end in itself. I have seen it as a disjointed event long ago, a past occurrence merely to be remembered fondly. I wonder if there are others like me, those who have seen baptism as as nothing but a requirement necessary to tick off the appropriate religious box. Some may even believe that it amounts to a 'get-out-of-hell-free' card!  When baptism is an end in itself we merely get our children 'done', and then move on with our lives.
Baptism, however, is not an end but a beginning. It is to mark the beginning of the life of faith. When parents take on the vows on behalf of a child, they are not claiming a fulfillment of the requirements of Christian parenthood, rather they are promising that they will actively and consciously raise their child in the faith of the Church. When the liturgy asks "Will you be responsible for seeing the child you present is nurtured in the faith and life of the Christian community?' and 'Will you by your prayers and witness help this child to grow into the full stature of Christ?' parents and sponsors are making a life-long vow. The vow of 'I will with God's help' is both important and serious.
Of course, the reality of life-long witness is not placed solely on the shoulders of the parents and sponsors. There is also that pesky question to those who witness the vows being made. "Will you do all in your power to support these persons in their life in Christ?" Those in the pews are not spectators but participants.  An important part of baptism, then, is the call to live our Christian lives together within community. I cannot view another's baptism without seeing my own call to live out my baptismal life. The baptism of a child then becomes both a witness and a challenge to the community of faith. After all, how can I nurture a new child in the faith if I am lax in my own devotions?
Perhaps this is why the liturgy points us back to the scriptural model of community. In Acts 2:42 we read "They devoted themselves to the apostles' teaching and to fellowship, to the breaking of bread and to prayer.' This forms the renewal of our baptismal vows particularly the charge to continue 'in the apostles teaching and fellowship, in the breaking of bread and in the prayers.' These four elements, essential for faithful community, become touchstones to which we are able to look at our own spiritual journey.
Have you ever taken a look at these four elements of Christian life asking deep and challenging questions?
THE APOSTLES TEACHING. How often do you read or study the Bible? Do you have questions about the Bible that you struggle with? When you read the Bible, do you read for information or transformation?
FELLOWSHIP. Do you meet with other Christian people for the expressed purpose of sharing your life of faith? Do you have a spiritual friend, mentor, or director – someone that can pray with you and for you? Do you see your life of faith as something you do yourself, or does it involve others? How do you support other people in their life of faith?
BREAKING OF THE BREAD. How often do you desire to be a part of a church service? Is it easy for you to miss a service once a month, twice a month, or even a whole month together? Do you find spiritual nourishment in the practice of communion?
PRAYERS. How often do you pray? Do you practice Morning or Evening prayer? Do you pray throughout the day, or in the midst of difficult times or decisions? Do you ever sit in silence, waiting for God to speak to you?
We could easily ask ourselves many more questions. This self-examination is not to be a condemning process, but one which, in grace, we are challenged to see the degree to which we live out our baptismal lives. Baptism, truly understood, is not solely a rite to be undertaken. It is a life entered into.
In his book "Sacramental Life: Spiritual formation through the Book of Common Prayer", author David DeSilva writes "For baptism to be fully baptism, it must not stop when we leave the font. It must become more and more the mold that shapes our lives until Christ lives in us and we live for Christ. It must become more and more the compass point from which we chart each day's course, until we follow the promptings of the Holy Spirit more naturally and readily than our own desires. In the words of Luther, baptism is to become 'the daily garment which the disciple is to wear all the time, . . . ever day suppressing the old person and growing up into the new."
If baptism is viewed as merely end in itself, then it has to do with a 13 day old child in a kitchen sink; that is where it occurred and that is where it stays. However, if baptism is a beginning it then speaks prophetically to who I am now, and who I am called to be. It plunges me into the depths of community. It challenges me to realize that I am called to a particular way of life, one in which I am to remain attentive to my baptism vows amidst all of life's events and activities.
How do you attempt to live out your own baptismal vows? What does it mean for you to live 'a baptismal life?'