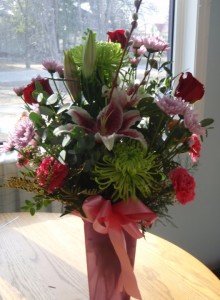 Despite this being a week of extraordinary events, and reactions, I'm trying to keep this blog true to it's title – Everyday Christianity. So here's an everyday kind of experience.
At a recent funeral, one of the flower delivery people impressed me. He arrived about an hour before the service, clean and well-kempt, asked if it was okay to enter the sanctuary with the floral arrangement (and doffed his hat as he entered!), asked the altar guild where they would like that arrangement, apologised for walking past me in conversation, and when he realised I was speaking with the family, offered his condolences.
It was a good experience.
Yes, I know that technically, that's his job, and that's what *should* happen when flowers are delivered for a funeral. However, ask anyone in church-land and they've got a story of things going not as well.
It caught enough of my attention that I decided to do something about it – having noted the florist of his employ, I called their offices later that day.
Having said who I was, and asking to speak to the manager or owner, I could almost hear the deliveries manager holding her breath.
"This is a compliment call" I said, and heard an audible exhale of relief.
I told the manager of our experience, and that I just wanted her to be aware of the positive image her employee had portrayed. She was kind and grateful, told me she would let the delivery person know, and thanked me for the call.
"We don't get a lot of these!" she said.
That's sad.
It's sad because most people enjoy receiving a compliment. It's a form of validation, of appreciation, of commendation. It serves to affirm one's actions, boost one's morale, validate one's ministry (whatever that ministry might be!).
In a world that's ready to offer complaint, sharing an encouraging word can be the right thing to do. It didn't take me much time to place the phone call, but it was uplifting to the manager and (I presume) to the delivery man.
It's what we're meant to do – to help one another, support one another, build up one another. Even when it's not required, it can be appreciated – and by doing what is right, we are witnessing who we are as Christians by showing that love to the world.
I only hope that as I venture into this next week of everyday moments that I can see times to lift someone up, to compliment them on a job well done, to thank someone for their efforts, to appreciate what is being done around me. I hope I'll be humble and observant enough to notice and mark the good being done around me; I hope my everyday Christianity will be one of complimentary action.
So let us not grow weary in doing what is right, for we will reap at harvest time, if we do not give up. ~Gal 6.9