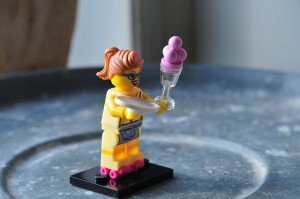 A while back, I had a casual conversation with a person whose employment is in the service industry. She knows that when I am out to eat, I ask God's blessing on the food. And she is so delightfully respectful of that time – I've seen her wait to put condiments on the table until the prayers are complete, I've seen her divert her coffee-refill rounds so as not to interrupt. They're little things, but they show a respect both for the prayer and for the pray-er.
I've thanked her for this respect and consideration; I know how busy staff can be and how difficult a job they can have (I've literally walked in their shoes!) My server-friend indicated that she is now making a real effort to continue this trend – not just with me, but with everyone. She said that while she is not a Sunday-morning-church-goer, she has respect for those who are. She said that she's careful to respect anyone who is praying over their meal; she knows it's important.
She also revealed to me that sometimes she is moved by the prayers, as people recognize not just the gift of food but the gifts of the farmers and food producers and cooks and wait staff who have all been involved in bringing it to the table. As she said "I grew up on a farm. I work in the food industry. The prayers are thanking God for the work that I get to be involved in. How could I NOT respect people who are so obviously and publicly grateful?"
It is a joy to know that God hears our prayers. It is a joy to learn that sometimes other people also hear our prayers and are moved by them. And who knows – maybe our public display of faithful gratitude may be a positive help in someone else's prayer journey.