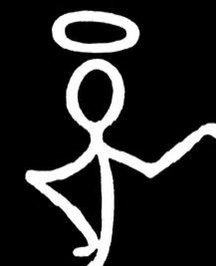 Ever since the pregnancy was announced, people have been speculating what the second child born to Kim Kardashian and Kanye West might be called. From time to time rumours would surface about a name that was being considered. For a while it was Easton, then it was Robert, then Legend. Finally, just two short days ago, after much anxious waiting, the child has been born and the name has been given.
He shall be called Saint.
So, let's think about this for a moment. What were Kim and Kanye intending when they named their child Saint? I, for one, do not believe they were thinking of any religious associations. I am sure they investigated enough to know that 'saint' means to be 'pure', 'holy,' or 'sacred,' yet these associations were then twisted to speak more about popularity and self-grandeur than anything else. For the couple, naming the child 'Saint' serves the same purpose of Kanye referring to himself as Yeezus—a moniker of their own greatness. For Kim and Kanye, to be a saint is to be one so grand that the world lies at your fingertips.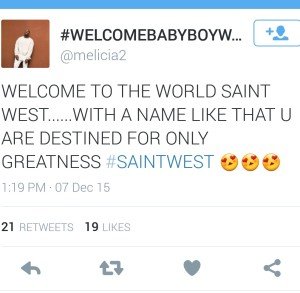 This is clearly how this name is understood by the modern day world, as this tweet testifies. Sainthood is about being destined for greatness. Purity is about popularity. Kim and Kanye use the identifier 'Saint' to mean nothing more than earthly glory and finite fame: it is about garnering the treasures that moth and rust can consume, and thieves can break in and steal. Their desire for their new son is that he rises above the general public in status, recognition, and worldly riches, and live his life bathed in the non-stop gushing of adoring fans. Given that the constant quest for earthly glory is the altar upon which Kim and Kanye have built their lives—Kim deeming herself powerful enough to "break the internet," and Kanye being one who routinely deifies himself—it is easy to see why they would give their child a name which, they believe, speaks to the eventual worship of their offspring.
Except for the fact that this is not what it means to be a saint.
Part of what Kim and Kanye missed, I believe, is the fact that a saint is a radical. They subvert the kingdom of the world by shunning the faux glory of glittery mansions. Instead, they seek the glory of God often revealed in lowly stables and back-water barns. A saint is one who, by the grace and power of God, refuses to live the 'its-all-about-me' life, choosing to follow the way of Jesus. They enter deeply the lives of the lowly and hurting and give of themselves in sacrificial love. They are dressed not in riches but in poverty. They live not to be served but to serve. A saint is one who unmasks the easy-street of contemporary popularity, showing it to be nothing more than the death-inducing lie of the Garden.
We could say that to be a saint in a modern day context is to be one who shuns the false gods of self importance and worldly fame, and continually turns to Jesus in faithfulness and self-offering. Because of this, a saint is not idolized by the culture or popularized by the world. They are often ridiculed, ignored and tread upon. Decrying the need for worldly awe they voice for themselves the desert rebuke "Worship The Lord your God and serve him only." In the end, the way of the saint is not one of earthly comfort and delight, but one of persecution and the cross.
To be honest, for these reasons, I find the name Saint West hilariously appropriate. It spechild completely subverts the ethics of what we may term the 'Hollywood-industrial-complex.' The name dethrones the way of celebrity worship and pronounces judgement upon it. A saint declares that abundant life is not found in the the way of adoring fans and earthly richess but in following the great commandment: "You shall love The Lord your God with all your heart, and with all your soul, and with all your mind… And the second is like it: 'you shall love your neighbour as yourself."aks to a desire that this child grow up to shun the way of his parents.
Given the way our world can be, shouldn't this be the prayer for all our little ones?
May this child grow into his name in the truest sense of the word, to the praise and Glory of our Lord Jesus Christ.