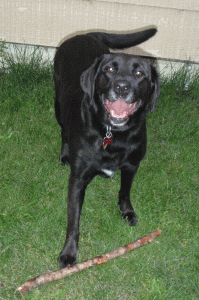 Anyone who knows me, knows that I am a dog person.  I have two gorgeous dogs that adopted me from the local SPCA a few years back.  They're not the brightest, but they're (mostly) good dogs, and I love having them around.  And so often they're reminding me of some basic realities.
This past weekend was a prime example.  We were out in the yard; I was tilling the garden and they were rolling in the grass, all of us enjoying the good weather and bright sunshine.  After getting the garden tools out of the detached garage, I had left open the side door.  Not knowing this, the Girl Guide leader (who was just finishing a sleepover in the hall) went to store some stuff in the garage, and opened the main door.
Never letting an opportunity pass them by, the dogs took advantage of this liberation.  The hound was so delighted by all the girls' activity that she was happy enough to race back into the yard when called.  The lab, however, was gone for a run around the town he knows so well.
And run he did – he went to visit other peoples' yards, he was a great hit at the garage sale across the way, he sniffed and played at other (more restrained!) dogs.  Any time I tried to call him he thought I was playing chase with him and he only ran faster, tongue hanging out and tail wagging.  After about half an hour, I spotted him coming close to home again, and made as though he should chase me.  Right into the yard where he rested happily.  A very happy dog come home.
Reflecting on it, I realised that I should live my life more like my dogs do.  I should seek out the opportunities that present themselves, and take advantage of them – whether they are earthly or spiritual opportunities.  I should delight in the ability to take some physical exercise.  I should go out and play in the sun.  I should visit the neighbours more often; and be open to meeting new friends wherever and whenever our paths cross; I should have great faith in other people.  I should rest at the end of an exciting day, simply enjoying what has taken place.
And, of course, I should always come home.  Home to a place that will always welcome me, that will always care for me.  Home where I know I will always be forgiven and loved and embraced, where my very presence is celebrated.  Home with God.
Home is such a simple concept to my not-so-bright dogs, and yet so often as a human I find I can struggle with it.  Maybe the dogs are brighter than I give them credit for.