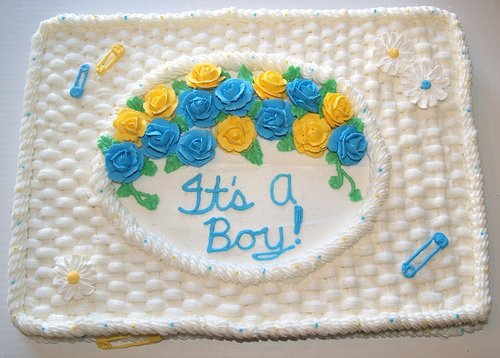 Today the world is celebrating the safe arrival of the Royal baby. There is much fanfare, and much delight, extending beyond the UK and the Commonwealth. And with good reason – this is a truly blessed event, to learn of the birth of a future King!
A birth is the kind of good news that begs to be shared. It's the promise of life and joy, of laughter and delight. It's the kind of good news that deserves celebration!
So, as a fan of the Royals, I decided to give a gift in honour of this joyous occasion. While I've not met the new parents, I have met some of their relatives – lovely folks! – though we're not exactly close chums. So just what does a thrifty cleric do for strangers half a world away, aside from pray?
I gave a gift of life.
It didn't involve sending anything to the UK; it didn't involve bunting and banners and wrapping paper. It will never sit on a shelf collecting dust, or be filed away with the thousands of other items sent by strangers.
My gift, in honour of the Royal Baby Boy, is a donation to PWRDF in support of midwife training programmes. The Royal Baby will have, and has already benefited from, some of the best opportunities: the best doctors and nurses, the cleanest hospitals, the latest and greatest medical tests and attentions as required.
But there were some 360,000 babies born today, most of them in the developing world. These are children who are just as loved as the new Royal baby, and so I believe they should also have opportunities of good health care for them and their mothers. PWRDF's work with midwife training is established and extensive (for example see http://pwrdf.org/2012/midwives-improve-lives-for-mothers-and-children/); PWRDF is expanding it's work in areas of maternal, newborn and child health (for example, a major symposium on this topic will be hosted by PWRDF this fall!)
I believe that these new mothers and their babies could benefit more from my small donation to PWRDF than the Royal Baby could from a tiny trinket. I believe that all of us has the opportunity to see this royal birth as an invitation to raise the standards of births around the world. I believe that my donation, inspired by (and honouring) the new Royal, will help to make the world a better place while enabling me to live out my baptismal vows. I believe that Baby Cambridge has the potential to be a positive influence on our world; I hope that our response to this birth will equally demonstrate a positive influence in the world.
I thank God for the safe delivery of the Royal Baby, and I thank God that other mothers have increasing opportunities for safe deliveries as well. After all, while not everyone will be born in privilege, everyone can be born in relative safety, and anyone can change the world for the better. We only need consider Mary's humble, unassisted delivery of our Lord and Saviour as proof.
Care to join me in supporting the PWRDF's midwife initiative? Go to: http://giftsformission.anglican.ca/productDetail.asp?crypt=CDhgHnBjcGc0GjVaAVA=