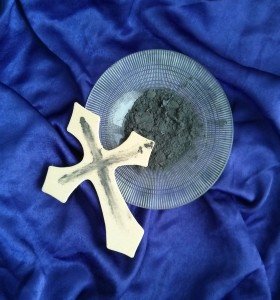 A few years ago, I was not having a good Ash Wednesday. I was traveling home after an emotionally difficult trip abroad, exhausted both physically and emotionally. After 9 hours of travel I reached my first layover, in Newark, shortly before lunch (local time). With many hours and multiple flights yet to come, I located my next departure gate and then set out to find the Starbucks.
On my way to caffeination, however, I passed the airport chapel. A sign indicated that there would be several services that day offering imposition of ashes, officiated by a retired Roman Catholic priest. Leaving my backpack with the other luggage in the corner, I snuck in the back row (the front rows were already full!).
A few things happened of note. Feeling spiritually depleted from the previous 10 days, I went up to receive a blessing during communion time. I indicated to the priest this request as a non-Roman Catholic, and his response, in a thick Jersey accent: "It's all the same God. Do you want the communion?" I definitely did.
Back at my seat, the Father asked some TSA agents to take up a collection. Too late, I realized my wallet was out of reach in my bag, and anyway I had no US currency. Head lowered, I suddenly saw a one-dollar bill being dropped into my lap. The man next to me was holding a few such notes, and realizing that I had no money in hand, put one bill in my lap and one bill in the lap of the woman on his other side. I thanked the man, who shrugged it off: "It's what you do," he said.
In those few minutes, my day had been changed. Grace had seeped in by a few kind actions from strangers in an unlikely place. The priest could have easily given me a blessing and not the communion; instead he responded to the pastoral need standing in front of him rather than adhere to the doctrinal norms. The gentleman with the money could have just placed all the bills on the collection himself; instead he prevented potential awkwardness and allowed the other woman and I to be contributors, fully included, in celebrating the gifts given to the church.
They were small actions, but they had a positive impact. They showed a desire to let kindness prevail, to embrace community anytime and anywhere. They reminded me that whatever has passed and whatever is to come, the now – this moment – is an opportunity to show love and compassion.
This seemed poignant to me, especially on Ash Wednesday. It caused me to think differently about the sentence we say while imposing our ashes: "Remember you are dust, and to dust you shall return." I now focus on the comma in there. "Remember you are dust" addresses the past; "to dust you shall return" addresses the future. But the comma – well that comma is in the here and now. It's this moment, in which I can decide how to live, how to respond to the gifts of this life, how to engage with those around me. It's this moment when I can choose to celebrate grace coursing through the world, or choose to ignore it. It's this moment in which I can do something good.
I have been dust, I am dust, and I will return to the dust. But for now I want to follow the example shown by that priest and that stranger beside me, and make the world a better, more caring place – even for just this moment.